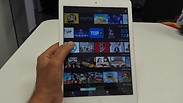 Orange TV on 4G
Photo: Ehud Kenan
Israel awarded six companies 4G mobile broadband radio frequencies in the 1800 MHz band, the Communications Ministry said on Tuesday, opening up the market and increasing coverage throughout the country.

The three largest cellular operators have provided 4G coverage on existing networks in major cities since last year, but Israel's first auction of dedicated bandwidth is likely to pave the way to nationwide coverage.

Cellcom and Partner Communications already provided 4G services on repurposed 3G networks, while Pelephone, a unit of Bezeq Israel Telecom, operated a 4G network on frequencies loaned by the Communications Ministry.

4G offers much faster data speeds than 3G, allowing mobile internet users to browse faster and run more complex apps.

Monday's 4G frequency sale, which netted the Communications Ministry 250.5 million shekels ($63 million), is well behind other Western countries, although Israeli 3G networks are among the world's fastest.

Cellcom was awarded 3 MHz of bandwidth, for which it paid 19.5 million shekels. It already had 12 MHz of 4G bandwidth, after receiving permission to convert part of its existing 3G network.

Similarly, Partner – which operates under the Orange brand name – said it paid 33.5 million shekels for 5 MHz of bandwidth. It already had 10 MHz of bandwidth.

Pelephone paid 96 million shekels to receive 15 MHz, while three other companies entered the 4G market for the first time.

HOT Mobile, owned by European cable group Altice, and Golan Telecom each bought a block of 5 MHz in the tender. Marathon 018, an internet and long-distance provider, also bought 5 MHz for its first foray into the mobile market.

Cellcom and Golan agreed to share a network, as have Partner and HOT. Network sharing is a common method of reducing setup costs.

Reports in Israeli media said Marathon 018 was also looking to set up a shared network with an existing mobile operator.

All of the frequencies awarded were in the 1800 MHz band. Some countries operate 4G in numerous bands, between 800 and 2600 MHZ with higher frequencies carrying more data but having shorter reach.