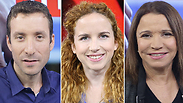 The big winners: Shmuly, Shaffir, Yachimovich
Photo: Yaron Brener
Results for the Labor party primary elections were announced Wednesday morning, with Shelly Yachimovich securing the second spot on the Labor list, which is the third spot on the Labor-Hatnua list.

The following spots were filled by Stav Shaffir, Itzik Shmuly, Omer Bar-Lev, Merav Michaeli, Eitan Cabel and Mickey Rosenthal.

The polls closed Tuesday night shortly after 10pm, with a 58.9 percent voter turnout, compared to 57.7 percent in the previous primaries two years ago.

Labor leader Isaac Herzog wrote on his Facebook page on Wednesday morning: "This is a morning of hope! We've selected a good list yesterday: Honest, brave and combative, with a lot of Zionism, that combines experience with ground-breaking thinking, deep-rooted ideologies and a great ability to execute. We have two months to reach every place in the country, knock on every door, call on the citizens of Israel to take the wheel of this state with us and make the change the entire state of Israel is longing for."




During the primaries, Yachimovich threw her support behind Herzog, to whom she lost the party leadership, and stressed that she supports the union with Hatnua led by Tzipi Livni. Yachimovich even said that she erred when she turned down a similar offer from Livni when Yachimovich was Labor leader.

Below is the Labor-Hatnua Knesset list for the March 17 elections:

1. Isaac Herzog

2. Tzipi Livni (Hatnua)

3. Shelly Yachimovich

4. Stav Shaffir

5. Itzik Shmuly

6. Omer Bar-Lev

7. Hilik Bar

8. Amir Peretz (Hatnua)

9. Merav Michaeli

10. Eitan Cabel

11. Reserved spot

12. Erel Margalit

13. Mickey Rosenthal

14. Revital Swid

15. Danny Atar

16. Hatnua reserved spot

17. Zuhair Bahloul

18. Eitan Broshi

19. Michal Biran

20. Nachman Shai

21. Hatnua reserved spot

22. Ayelet Nahmias-Verbin

23. Yossi Yona

24. Hatnua reserved spot

25. Hatnua reserved spot

26. Saleh Saad

27. Lea Padida

28. Robert Tiviaev

29. Moshe Mizrahi

30. Eldad Yaniv

31. Behira Berdugo

32. Gilad Kariv

33. Eytan Schwartz

34. Elis Goldman

35. Raleb Majadele

36. Alon Pilz

37. Shimi Baron

38. Haya Cohen

39. Alemi Nizar

40. Ibrahim Abu Sayyah

41. Troodi Salman

42. Lior Carmel

43. Melamed Lemuel

44. Marco Sarrabia

45. Giladi Alon

Stav Shaffir, now at number 4, and Itzik Shmuly, now at number 5, were the leaders of the 2011 social justice protest. The two entered the Knesset for the first time in the 2013 elections. Shaffir stood out in the legislative body in her struggle for transparency at the Finance Committee headed by Bayit Yehudi MK Nissan Slomiansky, and in the all out war she led against hidden money transfers made even after the previous state budget had been approved.

Shmuly led socio-economic struggles like the fight against cutting water service to debtors as well as a struggle against the intention to cancel group long-term care insurance.

The new Labor list boasts an impressive representation of women - there are seven women in the top 25, four of which in the top 10. Female members of Knesset who served in the previous Knesset passed more laws than their male colleagues, even though their number in the legislator is fewer.

Female MKs, who constitute 22 percent of the parliament, were behind 34 percent of laws that passed in the plenum. The most prominent of female legislators is Merav Michaeli - 3 laws she proposed have already gone into effect and 24 others she was behind have passed.

MK Eitan Cabel, who served as the director-general of the party's election headquarters, welcomed the results, saying "the goal is to unite behind chairman Isaac Herzog and lead together to a change that will bring to the end of the Netanyahu rule. We have an excellent and varied team that Labor voters can be proud of."

The Likud campaign said in response: "The Labor party chose a typical left-wing list. The citizens of Israel need to choose who will determinedly safeguard Israel's strength amid the threats and challenges we face - a left-wing government or a Likud government which is strong, responsible and experienced, led by Prime Minister Benjamin Netanyahu."