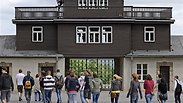 Buchenwald today
Photo: AP
While the streets of Germany's major cities are witnessing mass demonstrations for and against the absorption of immigrants and refugees, a public outcry has arisen over a town council plan to house refugees in a building that once served as a Nazi command post at the Buchenwald concentration camp.
Schwerte, a community of 50,000 south of Dortmund, has decided to move 21 refugees into the camp's only remaining building on the outskirts of the town.
The move comes, town officials say, because all the refugee housing in the town's jurisdiction is already filled with 200 asylum seekers, and the town doesn't have the money to purchase temporary structures. According to the town council's spokeswoman, "The solution is a practical one."
The refugees are scheduled to move into the building this week.
Related stories:
The Schwerte-Ost concentration and forced labor camp served as a sub-camp of Buchenwald in the last year of World War II, between April 1944 and January 1945.
It housed 700 Polish inmates, who were forced primarily to carry out repair work for the German rail company. The structures that once housed the prisoners were destroyed over the years, and all that remains of the camp is the building that housed the Nazi guards.
German government and civilian entities have slated the decision, saying it is reminiscent of "dark periods in German history."
Meanwhile, leading Muslim organizations in Germany staged a protest rally Tuesday night against radical Islamic terror.
The rally was attended by senior German officials, including President Joachim Gauck and Chancellor Angela Merkel, as well as cabinet ministers, diplomats and representatives of the Jewish and Christian communities in Germany.
The rally also came in response to the mass protests staged in Germany by PEGIDA, Patriotic Europeans against the Islamization of the West.