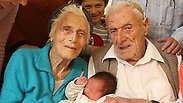 Michael and Marion with Dagan Raz
Photo: Elad Gershgoren
Despite the recent stormy and cold weather, a piece of joyous news warmed the hearts of the residents of Kibbutz Lavi in the Lower Galilee this week. The Mittwochs, Michael, 92, and Marion, 90, two of the founders of the kibbutz, celebrated the birth of a new great-grandchild – their 100th.
The Mittwochs were born in Germany, and both fled the country shortly after the Nazis' rise to power. After World War II, Michael, with a degree in chemistry from an English university, moved to Israel and joined the effort to help Holocaust survivors make their way to Israel. He was absorbed onto Kibbutz Kvutzat Yavne and that's where he met Marion, who also spent the war in England and immigrated to Israel under a forged visa. The two moved shortly afterwards to the Lower Galilee and were among the founders of Kibbutz Lavi, and also the first couple to wed at the young kibbutz.
The couple had five children – Hadassah, the widow of the late Rabbi Menachem Froman of Tekoa; a second daughter who lives in Kiryat Shmona; a son, Eli Ori, who lives in Shilo and is the grandfather of the 100th great-grandson; a second son, a professor of astrophysics at the Technion-Israel Institute of Technology who lives in Mitzpe Netofa in the Galilee; and a third daughter, who is the principal of a school in Gush Etzion for children with special needs.
On Tuesday, Eli and his wife, Ofra, arrived at the kibbutz with their son, Gadi, his wife, Noa, and their five children to present the 100th great-grandchild to great-grandfather Michael and great-grandmother Marion. The boy was given the name Dagan Raz, after the late Major Dr. Dagan Wertman, 32, a Golani Brigade doctor who was at officers' school with Gadi and was killed during Operation Cast Lead.
Gadi, the happy father and Michael and Marion's grandson, lives with his family in Ofra. "Dagan Raz is our fifth child, and it's amazing that our grandfather has raised such a magnificent family," he said.
"This is our answer to Hitler, damn him," said Michael, the great-grandfather. "He tried to wipe us out and here we have brought the 100th great-grandchild into the Covenant of Abraham."
"It's not just the number," added great-grandmother Marion. "All the children and grandchildren live in Israel and everyone wants to contribute to the country. We feel we have established a really big tribe."
"This is the essence of Zionism," concluded their son, Eli. "Mom and Dad underwent severe hardships early on in their lives. They established a kibbutz and today we are all proud of their 100th great-grandchild."