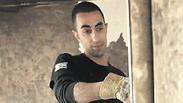 We saw a widow with a child in distress
Photo: Elad Gershgoren
Oshrat Krause, 33, stood on Tuesday in her 8-year-old son's blackened room, surveyed the extensive damage caused by the fire that had engulfed their apartment in Kiryat Bialik, breathed in the smoke that was still in the air, and could not stop crying. But help came quickly, and from an unexpected source.
Local fire station chief Herzl Aharon and Yossi Yifrach, the commander of the Haifa Bay fire station, who were at the home to complete the investigation into the cause of the fire and witnessed Krause's distress and tears, decided to step in, along with other firefighters, to help restore the apartment.
According to the initial investigation, the fire started during the night when the boy moved to his mother's room and accidentally dropped his blanket on the lamp next to his bed. The blanket ignited and the fire spread through the apartment.
"To see your house burned down is a terrible thing," said Krause, a single mother. "You think about what would have happened if you hadn't woken up, and then see all the damage and realize it will be very difficult to restore the apartment on your own. I thought to myself: What's going to happen now? Who will I turn to? I have no insurance so how will I pay for everything? My mind was racing with thoughts and worries."
The two fire department officers, however, could not remain indifferent to Krause's plight. "We saw the woman crying bitterly," Aharon said. "We saw a single mother, a widow with a child who is in distress. She was sitting there and crying and it was very hard to see. So we decided to take the initiative."
Krause: "Herzl saw me crying and realized that my situation was a very difficult one. I didn't even have to explain. He said: 'Oshrat, don't cry. Don't worry. I'm here and everything will be fine. I'll take care of everything.' He explained that the firefighters were there and that they would help me with all their heart. In no time, firefighters arrived at the apartment and started working."
According to Aharon, "During the course of our work, we are used to seeing a person's world come crashing down on him, but there are extreme cases of people who have it really hard and struggle to recover from such a blow. This incident touched our souls."
Krause was very moved and grateful. "I know that their job is not to restore homes that have caught fire," she said. "I see them working very energetically and with a lot of good will and understand that it's not something to be taken for granted. Those firefighters are my and my son's angels."