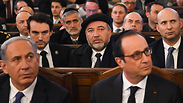 Netanyahu during the memorial service.
Photo: Israel Bardugo
French Prime Minister Manuel Valls had an uncomfortable encounter with one of Prime Minister Benjamin Netanyahu's security guards on Sunday at the Great Synagogue of Paris, according to French newspaper Le Canard Enchainé.
The incident, which they dubbed "Valls and the Gorilla", occurred during Sunday's memorial service in the Great Synagogue of Paris for the victims of last week's terror attacks in the city. According to the report, a member of Netanyahu's security detail shoved France's prime minister, grabbed his arm, and blocked his way.
"It appeared that he wanted to prevent Valls from getting close to Benjamin Netanyahyu, who had just sat down," the paper said. Valls reportedly did not stay silent and angrily told the Israeli guard: "Here you are not responsible for the law. You are responsible for the Israeli prime minister's security – and that's all."
The incident recalled a similar one that occurred in 1996. During a visit to Jerusalem, French President Jacques Chirac grew angry at the Israeli security guards, and snapped at them in English, asking: "What do you want? For me to get on the plane and return to France?"
Le Canard also said that during Netanyahu's France visit, French President Francois Hollande became concerned that Netanyahu would once more call on France's Jews to move to Israel – and when it became clear that the Israeli leader would insist on attending the solidarity march in Paris, Hollande personally called Palestinian President Mahmoud Abbas and invited him to join.
The Shin Bet said in response that "during the procession inside the synagogue towards the seating area, there was major congestion resulting from crowding in a narrow path leading to the entrance. At no point was there a confrontation like the one described. We emphasize that there was excellent cooperation with French security services, which contributed to the success of the security operation."