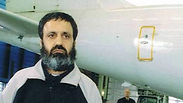 In his final verdict, outgoing Supreme Court President Judge Asher Grunis ruled on Thursday that Lebanese terrorist Mustafa Dirani, who claims he was tortured in Israeli prison, has no right to sue Israel.

In an appeal hearing, Grunis overturned a previous decision made by the Supreme Court that accepted Dirani's demand for compensation after he was allegedly raped and tortured in Israeli prison. Grunis explained that in this case, the court needs to apply the legal rule against examining an enemy's claim during wartime.

"Since Dirani left the boundaries of the investigation and rejoined a terror organization operating within the borders of the state, there is no room to investigate his claim," Grunis determined.

"Dirani has no one to blame but himself. It's unbelievable to me that Dirani is allowed - while acting against the state and working to destroy it - to use its institutions."

Dirani was the head of security of the Amal movement in Lebanon, which is associated with Syria. He was later expelled from Amal and established his own organization, the Believing Resistance.

Dirani is suspected of being involved in the capture of Israeli navigator Ron Arad, who went missing in Lebanon when his plane was shot down in 1986, and whose fate remains a mystery to this very day.

In 2000, while still in Israeli detention, Dirani filed a lawsuit demanding six million shekels (now $1.25 million) in compensation, saying he had been sodomized on the order of an Israeli secret service interrogator. Israel denied this.

Soon after Dirani returned to Lebanon, the Israeli government failed to persuade a three-judge Supreme Court panel to quash further proceedings. But two years ago, the court agreed to reconsider the appeal in a wider seven-justice forum.

Dirani was arrested by the IDF in 1994 and was held as a bargaining chip in administrative detention for a decade. He was released in January 2004 in a German-mediated prisoner swap in exchange for the bodies of three IDF soldiers and Israeli businessman Elchanan Tannenbaum.

The deputy to the Supreme Court's president, Miriam Naor, will replace Grunis as Supreme Court President.