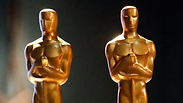 Directors Binnum and Brezis will be representing Israel with their film 'Aya'
Photo: MCT
"Aya", directed by Oded Binnun and Mihal Brezis, has been included in the final list of nominations for an Oscar in the category of Best Live Action Short, it was announced Thursday.

Although the Israeli movie "Gett: The Trial of Viviane Amsalem", directed by Ronit Elkabetz (who also stars in the lead role) and her brother Shlomi Elkabetz was ultimately not among the finalists for Best Foreign Language Film, directors Binnum and Brezis will be representing Israel with their film (produced by Yael Abecassis, one of Israel's leading actresses, and starring award-winning Israeli French actress Sarah Adler and well-known Danish actor Ulrich Thomsen).

Award Season

Showtime series co-created by Israeli director takes home honor for best television drama; Israeli film 'Gett: The Trial Of Viviane Amsalem' loses best foreign language film award to Russia's 'Leviathan.'

Binnun and Brezis created a precedent when their film "Aya" was commercially screened in Israeli cinemas despite its length (40 minutes). The movie tells of a chance encounter – which soon evolves into something more – between a Scandinavian music critic judge (played by Danish star Ulrich Thomsen) and an Israeli driver (Sarah Adler) who picks him up from the airport.

Other Oscar contenders include two extravagant comedies, "Birdman" and "The Grand Budapest Hotel," which dominated nominations for the 87th annual Academy Awards with nine nods each.

They were joined in best-picture nominations by "Boyhood," ''Whiplash," ''The Theory of Everything," ''The Imitation Game," ''American Sniper" and "Selma." Nominations for the 87th annual Academy Awards were announced from Beverly Hills, where they were broadcast and streamed live.

Another Oscar nominee is Polish director Pawel Pawlikowski's "Ida", a drama about a young novitiate nun who discovers her parents were Jewish and perished in the Holocaust.

"Ida", a finalist for the Academy Award for best foreign-language film, also won the Special Presentations award at 2013 Toronto film festival. The black-and-white film also received a best-cinematography Oscar nomination for its two directors of photography, Ryszard Lenczewski and Lukasz Zal.

Reuters and Associated Press contributed to this report.