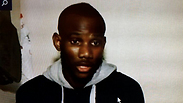 Lassana Bathily
Photo: Le Parisien
A Malian Muslim who hid shoppers from an Islamist gunman during an attack on a Jewish supermarket in Paris will be given French nationality, the Interior Ministry said on Thursday.
After the gunman had already killed people during a hostage taking in the store on Friday, 24-year old shop attendant Lassana Bathily hid several people.
Bathily saved the lives of six people whom he took to the supermarket's freezer – sparing them from the scarring scene that was underway. Four people were killed in the attack on the kosher supermarket before police were finally able to raid the store and kill the attacker – Amedy Coulibaly.
Exclusive Interview
In exclusive interview, Lassana Bathily recalls how he bundled customers into cold storage rooms of the Hyper Cacher, while an armed terrorist was shooting hostages above their heads.
Among the six lives that Bathily saved was a one-month-old baby. "When they ran downstairs I opened the door to the freezer and I went inside with them," said Bathily. "I turned off the light and I turned off the freezer. I left the freezer and told them to stay calm."
He then escaped to look for help. After initially being suspected of being an accomplice, he was able to tell police what was happening inside the store, where four Jewish hostages were killed before police shot gunman Amedy Coulibaly, a Frenchman of Malian origin.
"I am a devout Muslim, I even pray in the store. We get on excellently, the Jews and I, and the terror attack has hurt me," Bathily said in an exclusive interview with Ynet's sister publication, Yedioth Ahronoth. "I have been in shock since it happened."
"I helped Jews. We're all brothers," Bathily told BFM TV. It's not a question of Jews, Christians or Muslims, we're all in the same boat," he said.
Related stories:
A petition had been going around France over the last week to give Bathily citizenship.
"Following the acts of bravery by Mr Bathily during the hostage taking in the Hyper Casher market on Jan. 9, the Interior Ministry has fast-tracked (his) request for citizenship," the Interior Ministry said in a statement. An official ceremony will be held on Jan 20.
Last week, 17 people were killed in three days of violence that began with an attack on the Charlie Hebdo satirical weekly and ended with dual sieges at a print works outside Paris and the kosher supermarket.