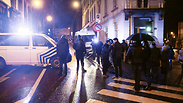 Two killed in anti-terror raid in Verviers
Photo: AFP
Belgian authorities say two people have been killed and one has been arrested during a shootout in an anti-terrorist operation in the eastern city of Verviers.
Magistrate Eric Van der Sypt told reporters in Brussels on Thursday that the suspects were on the verge of committing a major terrorist attack, and that they immediately opened fire on security forces. In a report that could not be immediately confirmed, the Web site of La Meuse newspaper quoted an unidentified police officer saying: "We've averted a Belgian Charlie Hebdo."
Explosions sounded in Verviers, Belgium
Sypt said at emergency news conference that anti-terrorist raids are under way in the Brussels region and Verviers. A third man was arrested during the operation in the eastern town of Verviers, Sypt added, saying there was, for the time being, no direct connection to last week's attacks in Paris. No police were injured in the operation, he said.
"The searches were carried out as part of an investigation into an operational cell some of whose members had returned from Syria," he said. "For the time being, there is no connection with the attacks in Paris."
"The suspects immediately and for several minutes opened fire with military weaponry and handguns on the special units of the federal police before they were neutralised," he said.
"We still expect a number of arrests," he said. No police were wounded or killed in the firefight, which occurred at the height of rush hour in a crowded neighborhood.
The magistrate said more anti-terrorist raids were underway in the Brussels region and Verviers, adding that Belgium's terror alert level was raised to its second-highest level. The operation was part of an investigation into extremists returning from Syria, authorities said.
Local channel RTBF said it was an operation intended to check on suspected radicals – one of several being conducted against people believed to have returned to Belgium after taking part in the Syrian civil war.
Local media said gunshots and several explosions were heard on a residential street in Verviers near the railway station and one photo posted by a witness on Twitter showed police vehicles and ambulances blocking the street.
Belgium has seen significant radical Islamist activity among its Muslim population. RTBF said police raids were also under way in Brussels. Belga news agency said police were hunting a man who witnesses said had brandished a weapon and shouted religious slogans in Arabic at a Brussels metro station.
The event followed a new developments in the investigation into Amedy Coulibaly, the terrorist behind the kosher supermarket attack and the killing of a French policewoman, after a Belgium man turned himself in to authorities, saying he had been in touch with Coulibaly.
Belgian authorities have detained a man for arms dealing and are investigating whether he supplied Coulibaly weapons for the attacks, prosecutors said Thursday.
Belgian media reported that a man had handed himself in to police in the southern city of Charleroi on Tuesday, saying he had been in touch with Coulibaly.
According to the reports, the man said that he swindled Coulibaly in a car sale, but police later found evidence that the two were negotiating about the sale of ammunition for a 7.62 mm caliber firearm.
Bullets of this caliber are needed for the Tokarev pistol that Coulibaly used in his attack on the supermarket in Paris, where he killed four hostages, and possibly in the shooting and injuring of a jogger two days earlier.
"The man is being held by the judge in Charleroi on suspicion of arms dealing," a spokesman for Belgium's federal prosecution said. "Further investigations will have to show whether there is a link with the events in Paris," he added.
Coulibaly was killed on January 9 in an assault conducted by an elite French unit after he took hostages and killed four Jewish-Frenchman at a Kosher supermarket in a Paris suburb. He acted in coordination, he said, with Cherif and Said Kouachi who killed twelve people in the attack against the satirical weekly Charlie Hebdo in Paris.
Reuters, AP and AFP contributed to this report