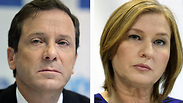 Zionist Camp leader: Labor's Herzog, Hatnua's Livni
Photo: EPA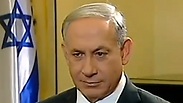 The gap between the center-left Zionist Camp and the ruling Likud party are getting smaller, two new polls published Thursday claim with elections only two months away.

According to a poll conducted by Israel's Chanel 10, the Zionist Camp – a joint party comprised of the leftwing Labor party, led by Isaac Herzog, and centrist Hatnua, led by Tzipi Livni – is set to receive 24 Knesset seats as opposed to only 20 for the Likud.

Another poll, by Israel's Channel 2, saw both parties poll higher but with a small gap between the two, giving the center-left bloc 25 Knesset seats and Netanyahu's Likud only 23. Both polls had a 4-point error of margin.

The Channel 10 poll seems to indicate the tides are shifting in the favor of the center-left party, with the Zionist Camp climbing by one seat, while Netanyahu dropped by a seat in comparison to the previous poll conducted by the channel last month.

According to the same poll, the third largest party is the rightwing Bayit Yehudi party, led by Naftali Bennett, with 16 Knesset seats. The religious-Zionist party was followed by two centrist parties - Yair Lapid's Yesh Atid and Moshe Kahlon's Kulanu party – who were tied at 10 Knesset seats.

If Israel's three predominantly Arab parties were to run together as a single party they would overtake the two centrist, polling together at 12 Knesset seats.

Leftwing Meretz was said to be polling at 6 Knesset seats, while Foreign Minister Avigdor Leiberman's Yisrael Beytenu was polling at a mere 5 Knesset seats – only one more than the election threshold.

Among the ultra-Orthodox factions, the Shepardic party Shas, led by Aryeh Deri was said to recive 6 Knesset seats, while its off-shoot Ha'am Itanu, led by former Shas strongman Eli Yishai, was bearly scratching the threshold with only 4 Knesset seats.
Race from premiership: Netanyahu vs Herzog
Though the prime minister is not directly elected, but usually the head of the largest party charged with forming the next government, the Channel 10 poll asked respondents who they would prefer to see as prime minister.

While Prime Minister Netanyahu took 42% of the votes in comparison to 35 for the Zionist Camp's Herzog, the previous poll had Netanyahu leading by 10 percent, as opposed to the current 7 percent.

The Channel 2 poll projected the following results: 25 for the Zionist Camp, 23 for the Likud, Bayit Yehudi with 16, Yesh Atid with 11, Kulanu with 11; Yisrael Beytenu, Shas and United Torah Judaism polled at 6, and Meretz closed the list with 5.

Should the Arab parties run together they would gain 11 Knesset seats, the Channel 2 poll said.