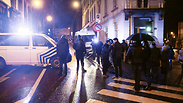 Anti-terror raids in Belgium
Photo: AFP
The only Orthodox Jewish school in the Netherlands was closed on Friday as a precautionary measure after an anti-terrorism raid in Belgium left two suspects dead. Meanwhile, Berlin and Paris police made a number of terror related arrests, as EU states crackdown on potential terror threats.

There was no concrete threat against the Cheider School in Amsterdam, Dutch national broadcaster NOS said, citing the school's Rabbi Binyomin Jacobs. School phones went unanswered Friday morning.

Jewish schools in Antwerp and Brussels are also temporarily closed after two terrorism suspects were killed in a raid in Verviers, Belgium, on Thursday.

"There is no direct threat… only prevention, there is no specific threat to the Jewish schools or the Jewish community, not at all. There is extra security for all schools and institutions," said head of the Jewish community in Belgium, Morris Sosnovsk.

"We will see about the synagogue before we ask Jewish people who want to go to the synagogue not to go," he added.

Dutch Jewish schools and prominent Jewish monuments - including Amsterdam's Anne Frank House and Jewish Historical Museum - have had extra security since June, on advice of the country's national anti-terrorism office. That followed a terrorism-related shooting at the Jewish Museum in Brussels, Belgium, in May that killed four.

Related stories:
Belgium anti-terror raids
With Europe dreading more terror, Belgian authorities moved swiftly to pre-empt what they called a major attack by as little as hours Thursday, killing two suspects in a firefight and arresting a third in a vast anti-terrorism sweep that stretched into the night.
The police raid on a former bakery in this provincial rustbelt town was another palpable sign that terror had seeped deep into Europe's heartland as security forces struck against militants, who officials said included some returnees from Islamic holy war in Syria.
Terror raid in east Belgium
A former Belgian counter-terrorism chief told public broadcaster RTBF that the Charlie Hebdo attacks could have prompted Belgian police, who say they already had the suspects under surveillance, to bring forward the arrests.
"Paris may have speeded things up, in the sense that every country in Europe is on alert," said Andre Jacob. "Some information that may have been barely 'ripe' has been acted on quicker than planned ... because the threat was real."
The fact that the two unidentified men opened fire with assault weapons on police who called at the apartment in Verviers showed the danger the group posed, Jacob added.
Belgian Prime Minister Charles Michel raised the national alert level to three from two on a four-point scale. "We are not aware of any specific or concrete threats, however, in the situation we can consider it is useful to raise the level of prudence and vigilance," he told Reuters.
With half a million Muslims, mostly of French-speaking North African descent, among its 11 million people, Belgium has seen similar discontent to that in France among young, unemployed children of immigrants in blighted, post-industrial towns like Verviers, once a major centre for wool and other textile mills.
A young Frenchman of Algerian origin is facing trial in Belgium, accused of shooting dead four people at the Jewish Museum in the capital Brussels last May.
Per head of population, more Belgians have taken part in the fighting in Syria than any other European state.
After the gun smoke lifted, police continued with searches in Verviers and the greater Brussels area, seeking more clues in a weeks-long investigation that started well before the terrorism spree last week that led to 17 deaths in the Paris area. The Belgian operations had no apparent link to the terrorist acts committed in France.
And, unlike the Paris terrorists, who attacked the office of a satirical newspaper and a kosher grocery store, the suspects in Belgium were reportedly aiming at hard targets: police installations.
"They were on the verge of committing important terror attacks," Van der Sypt told a news conference in Brussels.
Across Europe, anxiety has grown as the manhunt continues for potential accomplices of the three Paris terrorists, all of whom were shot dead by French police.
Reuters, AP and AFP contributed to this report