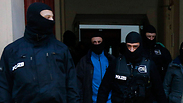 European nations arrest sleeper cells
Photo: Reuters
A bomb threat in Paris caused the evacuation of a train station after more than two dozen suspects were arrested in Belgium, France and Germany in continuing searches for suspected terrorists, authorities said Friday, as US Secretary of State John Kerry arrived for talks in Paris.
A CNN report citing Western intelligence source said that up to 20 sleeper cells of between 120 to 180 people were ready to strike in France, Germany, Belgium and the Netherlands. The source told CNN that EU and Middle East intelligence agencies identified an "imminent threat" to Belgium, possibly also to the Netherlands.

Thirteen people were detained in Belgium and two arrested in France in an anti-terror sweep following a firefight in which two suspected terrorists were killed, and more suspects are being sought, Belgian authorities said.
French and German authorities arrested at least 14 other people Friday suspected of links to the Islamic State group with Europe on alert for new potential terrorist attacks.
The arrests made in the region south of Paris including Montrouge, where a young policewoman was killed in the attacks, were in connection with suspected "logistical support" for the shootings, an official said.
Meanwhile, Paris police say the Gare de l'Est train station has been closed and evacuated after a bomb threat, as authorities try to prevent new violence after the worst terrorist attacks in decades. A police official says the station was closed "as a precaution." The Gare de l'Est is one of several major train stations in Paris, serving cities in eastern Paris and countries to the east.
Related stories:
German police also said on Friday they had arrested two people following a raid on 11 properties linked to radical Islamic Salafists, shortly after Belgian police killed two men during similar raids against an Islamist group.


The arrests followed investigations which have been going on for several months into five Turkish citizens aged 31 to 44, who are suspected of "preparing a serious act of violence against the state in Syria" and money laundering, police said.
Some 250 police officers took part in the raid in Berlin. Police said there were no indications that the group had been planning attacks in Germany.
Video: Reuters (צילום: רויטרס)
Eric Van der Sypt, a Belgian federal magistrate, said Friday that a dozen searches had led to the discovery of four military-style weapons including Kalashnikov assault rifles.
Belgian police on Thursday moved in on a suspected terrorist hideout in the eastern city of Verviers, killing two suspects and wounding and arresting a third. Sypt says the terrorists' goal was to kill police on the street or in their offices.
A spokesman told a news conference there was still no apparent link to last week's Islamist attacks in Paris and the identities of two gunmen killed during one of the raids on Thursday.
Reports named them as Redouane Hagaoui, also known as Abu Khalid Al Maghribi, and Tarik Jadaoun, also known as Abu Hamza Belgiki, and said both had recently returned from Syria.
Seventeen victims and the three attackers died in three days of violence that began on Jan. 7 with an attack on the offices of satirical weekly Charlie Hebdo.
Big hug
Kerry arrived late on Thursday. He met with French Foreign Minister Laurent Fabius early on Friday before meeting with President Francois Hollande. "It's good to be with you. We have a lot to talk about," Kerry said to Fabius.
"I think you know that you have the full and heartfelt condolences of the American people and I know you know that we share the pain and the horror of everything that you went through," Kerry said as he greeted French President Francois Hollande Friday. "Our hearts are with you." Kerry, who had said he was coming "to share a big hug with Paris," and the French president hugged each other.
Hollande said the French people "were the victims of an exceptional terrorist attack. We must therefore together find the necessary response."
Later, Kerry and Fabius laid a wreath at the Hyper Cacher kosher market, one of the two sites that had been attacked last week. The wreath is just the latest addition to a long stretch of flowers and candles that have been placed alongside police barriers that surround the market.
At the market, Kerry and Fabius laid the wreath and spoke briefly with Joel Mergui, the head of France's Rabbinical Council, before heading to the Charlie Hebdo memorial down the street from the newspaper's office.
There, they laid another wreath and were joined by Francois Vauglin, the mayor of the district. Kerry then, accompanied by US Ambassador to France Jane Hartley, walked the short distance to where the Paris police officer was killed and placed flowers at the site.
Reuters and AP contributed to this report