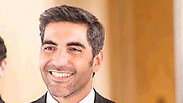 Ary Abittan in Serial (Bad) Weddings. The filmhas made him a local celebrity
'Terror won't drive us out of France'
French comedy 'Serial (Bad) Weddings' has become one of biggest and most surprising hits in Israeli cinemas, with its exploration of multiracial relationships. Then came terrorist attacks in Paris and made it more relevant than ever. Ary Abittan, film's Jewish star, talks about his difficulty in explaining to his daughters what happened in Paris, and why 'running away is letting the scum win.'
Last Sunday afternoon, when four million French citizens flooded the streets of the country's major cities, Ary Abittan was on a plane to Tel Aviv. "I flew here on El Al instead of taking to the streets," says the Jewish star of the film "Serial (Bad) Weddings", a French comedy that became a surprise hit in Israel. "It's a bit of a shame that I was not there, but then I thought that coming here on an Israeli plane after everything that's happened, is also a kind of symbolic appropriate response to things that happened this week in Paris."

Abittan – an actor and comedian who is considered a rising star in French cinema – is visiting his family, who live in Netanya and Ashdod. He loves Israel and them, but does not intend to join them. For, despite his love for Israel, Abittan, 40, equally loves his native France - perhaps because of everything that happened in the past week.

"I understand those who are afraid. It's natural to be afraid," he says during our conversation in Tel Aviv. "To abandon France, to flee, because of what happened, would be doing exactly what those scum wanted. It lets them win. Should I leave my country because of a terrorist attack? Run away? No way. Who are these people anyway? They are a minority within a minority within a minority."

While like quite a few French Jews, he uses many Hebrew words, is familiar with the "Burekas" films and feels at home in Tel Aviv, it is evident that Abittan is a proud Frenchman. "I have confidence in France, I love France, France has given me everything," he says without a drop of cynicism.

The massive rally in Paris also elicits a sense of pride. "When the killers entered the Charlie Hebdo offices a week ago, they sought to kill the sacred principles of freedom of expression, the things that are important to use as French people," says Abittan.

"The march was the answer to these things. I feel that the whole world came out against it, and we proved that we are united against those people and do not intend to give in to them. Freedom of expression is sacred to me. The right to laugh is too."
A real Tower of Babel
When Abittan talks about the right to laugh, it is a reminder of the fact that he is above all a comedian, and, as a French-Jew, all forms of inter-ethnic and inter-religious humor are not foreign to him. He was born and raised in the northern suburbs of Paris, especially Sarcelles, which has a huge Jewish community ("Little Jerusalem") and is located next to a sizeable African Muslim community.

He describes a childhood in which religious tensions were repeatedly dispersed by humor. "I was walking around the neighborhood with Muslim and African friends, and we were laughing at everyone," he recalls. "They were coming down on me that my father had a kippa, and I was hitting back by asking my African friend what his mother wore on her head. We lived in an apartment block, a real Tower of Babel, with each apartment holding someone of another origin. Everyone would laugh at everyone, and then in the end my mother would take eggs and flour to the neighbor opposite."

This multicultural reality full of contradictions made its way in no small measure into the script for "Serial (Bad) Weddings", which centers around a conservative Christian couple from a small French village (Christian Clavier and Chantal Laubby) whose three daughters have married, one after another, a Muslim, man of Chinese original, and a Jew (Abittan). The film deals with the chosen husband of the fourth daughter (no spoilers), whose identity causes a crisis in the family.

The film offers an opportunity for the kind of ethnic jokes that would not be out of place in Israel's Bourekas movies, and even if the majority of the critics have dismissed it as a vulgar little comedy, the audiences did not agree, and embraced the movie. In France, 13 million people have flocked to see it, making it the biggest hit of the year in French cinema. Since its launch in Israel six weeks ago, it has pulled in 200,000 viewers, even without a Hollywood star or a famous Frenchman – an audience size earned by perhaps a dozen films each year.

"You need to know how to laugh at it all; laughter is the best weapon," says Abittan about why the film found such a broad audience in Israel and France.

"When we sat down with the director and screenwriter Philippe de Chauveron while preparing for the film, each of us put scenes there were a little from their personal experiences. When I read the movie, it was for me like Proust's Madeleine. It took me back to childhood."

Do you know the Israeli Bourekas movies? They also like ethnic jokes and half of their films also deal with inter-ethnic weddings.

"Of course I know them! I love Ze'ev Revach's films," protests Abittan, displaying an impressive knowledge of Israeli comedy. "And not only him. Throughout all of my vacations in Israel as a child, my cousins introduced me to your comedians. (Eli) Yatzpan, in my opinion, is a genius, and Israel Katorza. I do not know whether to describe this movie as a French Bourekas movie or Bouerkas-Crepe, because I do not know how well Philippe the director knows them, but yes, there is a similarity. The film ended up with a lot of Jewish humor, as I believe that Jewish humor is above all knowing how to laugh at yourself. "

What's the difference between French and Israeli humor? In the past, you have appeared here as a stand-up.

"I've noticed that Israelis are really very nervy in life and in humor. It's something very intense, to want to laugh all the time. Even the audience here is nervy. You tell a joke, they laugh loudly and clap, then right away want to hear another one."
Things you don't need to see
Abittan has done stand-up in Tel Aviv for several years, but he concedes that they are shows for a native French audience that knows him. Now, however, he has the status of a local celebrity. "People here stop me on the street and say, 'Hey, we saw your movie yesterday. We laughed so much!" he says quite proudly.
"The truth is that when I heard that the film was scheduled for distribution outside France, I was interested in what would happen in Israel. I'm interested in how the audience here responds. Maybe I'll go to a screening here to see."
On Friday, when four Jews were killed in the attack at a Paris kosher supermarket, Abittan took to the streets of his neighborhood in the eighth district of the French capital.
"It was so sad, I'm still sad," he says. "I remember how I passed people and looked them in the face. We didn't say anything, just shrugged our shoulders and looked at each other with an expression 'what can you do.' They shut the schools and the girls came home. Two days later, I explained to them about terrorism and why what happened at Charlie Hebdo happened. I had to explain to them why suddenly a Jewish supermarket was attacked. It wasn't clear to them. In the end I turned off the TV. There are things they don't need to see."
If your girls had Muslim friends, do you think that today they can laugh with them as you laughed with your childhood friends, or have things changed?
"Of course they can. But I always say: Do not laugh at someone to mock him, to exclude him, laugh with him to be together."
And what about your Muslim friends? Do you feel any tension with them since the incident?
"I have Muslim friends - for example the actor Medi Sadoun, who worked on this movie with me. I believe everything is a question of education. Some people run to their Muslim friends after an event like this and say, 'I know it's not all Muslims etc'. I don't have to say anything like that at all to them. Of course not."