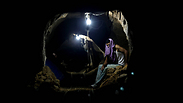 Smuggling tunnel between Sinai and Gaza
Archive photo: AP
Egyptian forces uncovered a 1,200-meter long tunnel running from the Gaza Strip into the Sinai Peninsula with a large amount of explosives and mortar shells inside, the Palestinian news agency Ma'an reported on Saturday. The shaft opening was located inside an apartment belonging to an Egyptian smuggler.
Egyptian army corps of engineers blew up the tunnel, which was reportedly equipped with telephone lines and electric lighting. Military officials said that they also had information on tunnels up to 3 kilometers deep located on Egyptian territory.
Earlier in January, Egypt began work on doubling the width of a buffer zone along the border with the Gaza Strip to prevent militants infiltrating from the Palestinian enclave, security officials said.
The buffer was initially planned to be 500 metres (546 yard) wide, but is now being expanded by another 500 metres.
The authorities began evacuating 1,220 homes in the area demarcated for the expansion of the zone, security officials said.
"We have started evacuating the residents... but no houses have been demolished so far," one said.
Construction of the zone comes in the wake of an October 24 suicide bombing that killed 30 Egyptian soldiers and wounded scores more.
After that incident, Egypt declared a three-month emergency in parts of North Sinai, a remote but strategic region bordering Israel and Gaza.
Egypt suspects Palestinian militants of aiding jihadist attacks against its security forces that have increased since the army ousted Islamist president Mohamed Morsi in 2013.
The army has also stepped up destruction of tunnels from Gaza that it says are used to smuggle arms, food and money by the Palestinian militant group Hamas.
It says it has destroyed more than 1,600 tunnels since Morsi's ouster.
Jihadists in the Sinai Peninsula have killed scores of policemen and soldiers since the overthrow, vowing revenge against a police crackdown on Morsi supporters that has killed more than 1,400 people.
AFP contributed to this report.