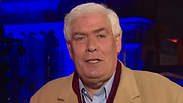 Jim Clancy resigns allegedly because of Israel-related tweets.
Veteran CNN anchor Jim Clancy issued a statement Friday saying he is leaving the network, where he has worked for 34 years, one week after he was involved in a controversial debate on Twitter with pro-Israeli activists over the attack on satirical weekly Charlie Hebdo in Paris.

On January 7, Clancy posted a tweet claiming that the caricature of Muhammad published by the French magazine did not mock the Muslim prophet. "They mocked how the COWARDS tried to distort his word. Pay attention," he wrote.

The tweet led to a number of responses from his followers. "Absolutely untrue. The magazine was targeted in the past over an issue in which Muhammad was listed as guest editor," Oren Kessler, a deputy director of research at the Foundation for Defense of Democracies wrote, challenging Clancy's interpretation.

The CNN reporter then tweeted "Hasbara?," in response, implying that Kessler was engaging in public diplomacy on Israel's behalf.

"These accounts are part of a campaign to do PR for Israel," Clancy wrote, adding that a "pro-Israel voice" was attempting to "convince us that cartoonists were really anti-Muslim and that's why they were attacked. FALSE."

After the online debate, Clancy deleted his Twitter account.

n his resignation statement, the CNN anchor did not mention the reason for his departure. He posted the following message: "After nearly 34 years with Cable News Network, the time has come to say farewell! It has been my honor to work alongside all of you for all of these years."

A CNN spokesperson issued the following statement in response: "Jim Clancy is no longer with CNN. We thank him for more than three decades of distinguished service, and wish him nothing but the best."