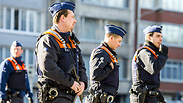 Soldiers fanned out across Belgium to guard sensitive sites.
Photo: AFP
Soldiers fanned out to guard possible terror targets across Belgium Saturday, including some buildings within the Jewish quarter of the port city of Antwerp. It was the first time in 30 years that authorities used troops to reinforce police in Belgium's cities, and came a day after anti-terror raids netted dozens of suspects across Western Europe.

Up to 300 military will be stationed at locations such as the US and Israeli embassies in Brussels and NATO and EU institutions.

In an interview broadcast Saturday on Belgium's VRT network, Belgian Defense Minister Steven Vandeput said soldiers could be deployed to protect certain embassies and some buildings within Antwerp's Jewish quarter. Belgium has increased its terror warning to 3, the second-highest, following the anti-terror raids of Thursday which left two suspects dead.

The raids were reportedly conducted against a Belgian Jihadist cell that originates in Syria. According to La Derniere Heure newspaper, Belgian authorities announced on Saturday that they are seeking a man named Abdelhamid Abaaoud – the alleged leader of the Belgian cell who apparently gave orders to cell members from Greece or Turkey.

Abaaoud, 27, is reportedly known among cell members as "Lord Syria." He is a Belgian citizen of Moroccan descent who grew up in a wealthy suburb in Brussels. According to reports, he recently joined the Islamic State group. The anti-terrorist raids in Belgium were allegedly conducted after messages were transferred from Abaaoud to members of the cell in East Belgium.

The VTM channel in Belgium reported that the investigation into the terror cell had gained momentum during Christmas time after telephone calls made from a prisoner at the Lantin prison in Belgium were intercepted. The phone recordings revealed that Abaaoud had been communicating with cell members by way of the prisoner – a brother of one of the members of the terror cell that was killed during the police raids in Belgium on Thursday.

Greek authorities began searched for Abaaoud on Saturday. According to La Dernière Heure, the American FBI and the Israeli Mossad are helping to track down Abaaoud.

Authorities have said there was no apparent link between the foiled plots in Belgium and last week's terror attacks in Paris on the newspaper and a kosher supermarket.

Meanwhile, in Berlin, two men were arrested for allegedly trying to recruit members on behalf of the Islamic State group. The men reportedly handed out propaganda materials and funds to young individuals who were interested in joining the terror group. In Britain, a young woman, 18-years-old, was arrested at the airport on suspicion she was involved in terror activities.

In France, an official disclosed that Said Kouachi, one of the gunmen who attacked the offices of the satirical magazine Charlie Hebdo, had been quietly buried on Saturday.

After an initial refusal, the mayor of Reims said he was forced to backtrack and allow the burial. Mayor Arnaud Robinet said the government had insisted he allow the elder Kouachi brother to be buried in Reims because according to French law residents of a town have the right to be buried there.

Said and his brother Cherif were killed by French counter-terrorism police Jan. 9 after they killed 12 people at the offices of Charlie Hebdo. Cherif Kouachi is to be buried in Gennevilliers, a suburb of Paris where he lived, the city said in a statement Friday.

A third gunman, Amedy Coulibaly, killed five people including four hostages at a kosher market in Paris before he was killed by police. There has been no word of plans for his burial.

French, German, Belgian and Irish police had at least 30 suspects behind bars on Friday and in Brussels, authorities said a dozen searches led to the seizure of four Kalashnikov assault rifles, hand guns and explosives. Several police uniforms were also found, which Belgian authorities suggested the plotters had intended to masquerade as police officers.