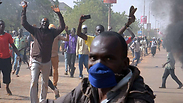 Violence erupts in response to Charlie Hebdo's latest cover in Niger.
Photo: AFP
At least three people were killed on Saturday in protests in Niger against French newspaper Charlie Hebdo's cartoons of the Prophet Mohammad, police sources said, after four people were killed during protests on Friday.
Police fired teargas at crowds of stone-throwing Muslim youths who set fire to churches and looted shops in the capital Niamey after authorities banned a meeting called by local Islamic leaders. A police station was attacked and at least two police cars burned.
The police sources said two charred bodies were found inside a burned church on the outskirts of Niamey on Saturday, while the body of a woman was found in a bar. She was believed to have been suffocated by teargas and smoke, they said.
The new front cover of the Charlie Hebdo satirical weekly featuring an image of the Prophet Muhammad has caused a wave of violent riots to erupt in Niger, Algeria, Sudan, Jordan and Pakistan, among other countries. The most brutal riots occurred in Niamey, the capital of Niger.
Some of the mainly evangelical churches in the Niger capital are housed in small villas with no outside identification
Protesters were also headed for other churches in the capital of the poor west African country, the AFP reporter said.
"Some of us stayed barricaded in our homes. I have never been so scared in my life," a Christian mechanic told AFP. "The government must put a stop to this," he added. "It doesn't look good for us."
Bars, hotels and various businesses under non-Muslim ownership or bearing signs of French companies were also targeted.
"As soon as the protesters started toward the grand mosque we knew this was coming," said Kiema Soumaila, manager of the Toulousain a well-known bar in Niamey.
"They burned everything after smashing anything that was glass on the road," Soumaila added.
About six groups of 200 to 300 protesters were believed to be rampaging through the city, a security source said.
Around 100 helmeted riot police stood in front of the Niamey cathedral at midday, protecting it from a crowd of stone-throwing youths.
Police had used tear gas earlier in the day to disperse a crowd of about 1,000 young people massed in front of Niamey's grand mosque who were armed with iron bars and clubs.
France's embassy in its former colony warned French citizens to stay indoors after rioters ransacked several French-linked businesses, including telephone kiosks run by Orange.
In northern Russia, 15,000 people protested against the Charlie Hebdo cover and in Pakistan, a news agency photographer was shot on Friday and others were wounded during protests organized by radical factions.
In Algeria, police forces struggled to keep the order in the streets after 1,000 protestors took to the streets on Friday with cries of "I am not Charlie, I am Muhammad."
In Amman, the capital of Jordan, 2,000 Muslim Brotherhood supporters clashed with police officers.
Furthermore, in Sudanese city of Khartoum, hundreds of Muslim worshipers protested the image of the prophet and demanded that the French ambassador be deported from the country.
Palestinian rioters also protested the Charlie Hebdo cover at the al-Aqsa mosque in Jerusalem on Friday – some of them lit French flags on fire and stomped on them.
As the protests around the world escalate, many European cities decided to up their security presence at sensitive sites that could be potential targets for radicals. In Belgium, 300 soldiers were fanned out across sites such as the US and Israeli embassies. In the UK, security was also reinforced for Jewish sites.