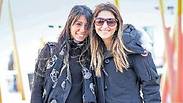 Golda Jamie and Joanna Cohen
Photo: Dana Kopel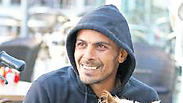 Stefan Krief
Photo: Dana Kopel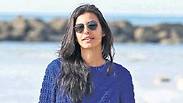 Sarah Bouer
Photo: Dana Kopel
We went only as far as Netanya, but it felt like we were in Paris; there was only one language to be heard at the La Brioche café in Independence Square – and it wasn't Hebrew. Drinking their café au lait (simply a cappuccino, but try to tell that to the French) at the table next to us were Philippe Farjon, 45, a native of the French capital who has been in Israel for seven years, and Eliyahu Hayat, 49, who moved here from Marseilles some 18 months ago. "We came here because our children are afraid there," Farjon explained. "Yes, very afraid," Hayat concurred in broken Hebrew.
One of the patrons at another table was playing with a tiny Yorkshire terrier named Bimbo. We joined them. Born in Paris, Stefan Krief, 43, single and a clothes designer, has been in Israel for eight years. His uncle owns a jeans factory in Sousse, Tunisia. Sitting next to him was a fellow native of Paris, Frank Zarbiv, 36, who arrived here just three months ago with his wife and three children and owns a trading company in the French capital. Krief laughed off the cold weather. "This is cold?" he chuckled. "It's fantastic. It's below zero in Paris now; it's freezing. You can't sit outside at a café like this in January and enjoy a coffee and croissant."
So how are the croissants in Israel then?
"Comme ci comme ça. But the schnitzel - wow. I love the schnitzel in Israel. I could eat schnitzel for breakfast, lunch and dinner. And the hummus, the tahini – I love it. Wow, wow, to sit down to a plate of hummus and tahini and a beer at the beach - it's amazing."
Zarbiv: "The food here is really good, but food isn't everything. I returned here from Paris on Saturday night. On Friday, I was with my family just nearby the kosher deli. It was horrible! We sat at home and watched it all on TV. It's frightening there now."
Krief: "There are problems there with Arabs every day. I'm from Belleville, a neighborhood with Chinese, Arabs, Jews – a melting pot, and Arabs are pointing at Jews and saying, 'Get the hell out of here.' And I grew up with Arabs and never had a problem. They would come to eat at my home, and I would go to their homes. We'd sit and talk and laugh together. I still have Muslim friends in France, they even come to see me two or three times a year here in Israel. The last time a Muslim friend of mine came and stayed for three months."
What's his name?
"If you publish his name, it could make trouble for him. I don't mean that all the Arabs are against us, are racists but it's enough to have a few in your neighborhood who harass you to make things unpleasant – and even scary. No one is surprised by what happened there. You saw Coulibaly, the terrorist who carried out the massacre at the deli, right? There are thousands like him in Paris."
You were here during the war in the summer, right? It's dangerous here too.
Krief: "Here, we have the IDF. God is here. I was at a friend's house in Tel Aviv all through the summer. Rockets were flying over my head every day. There were sirens while I was at the beach. If something like that were to happen in Paris, you wouldn't see anyone out in the streets. Here, everyone was out, living normally. That's what's so nice here. People don't allow fear to get the better of them."
Elections are coming up. Who are you going to vote for?
Krief: "I have never in my life voted. It's bullshit. But I like Bibi. I wouldn't mind seeing him get elected."
Zarbiv: "I am not familiar with anyone else aside from Bibi. I don't know who is good and who isn't."
Krief: "We need to solve the problems with the Palestinians because then 80 percent of the problems between the Jews and the Muslims around the world will get sorted out. If we give them a state, allow them to live well, it will pay off for us… I don't read the news and don't know who supports peace. I know that Bibi is a capitalist and that's not good. There are people in Tel Aviv who are living in tents. Jews! That's not right in Israel."
Zarbiv: "Economically, it is very difficult here. There's no work; the salaries are low. Many, like me, continue to work in France, and travel two or three times a month to Paris. Food here is expensive, and rent is high, like in Paris and even higher. Here, salaries are small and prices are high. A family carton of milk costs NIS 12; in Paris, NIS 5! Another example, an espresso here is NIS 10; in Paris, NIS 7! Why such a difference?"
'It's frightening here'
Of the 75,000 or so French Jews currently living in Israel, 32,612 moved here in the past 10 years, with 2014 witnessing a record 6,960 immigrants from France. Almost 2,000 of them were absorbed in Netanya, the number-one city for French immigrants that is now home to approximately 23,000 French Jews.
We were there on Tuesday, just a few hours before the funerals of the four Jews who were murdered in the Paris deli the previous Friday. Everyone was talking about the fears that caused them to move to Israel, about their concern for family members who remain in France – but that's not all. The tough life and unreasonable cost of living in Israel was also a topic of conversation.
Joanna Cohen, 27, a new immigrant, was on the phone with her sister in Paris, Jennifer Tauwil, 31, when we met in Netanya's city center. Jennifer and her family would love to join Joanna in Israel, but she knows it's hard to make ends meet here. "We have a clothes store here in Paris," she said to me on video chat. "And what do we have in Israel? We have nothing! But we want to make aliyah. It's frightening here."
"Jews in France are taking the mezuzahs off their doors, their kippahs off their heads – and all because of fear," Cohen said after the call ended.
"There's a lot of security here in Israel," added Golda Jamie, 30, a native of Paris who moved to Israel nine years ago.
Elections are coming up. Who are you going to vote for?
Jamie: "For Bibi. He speaks well."
Cohen: "I like Ariel Sharon."
He died a year ago and was in a coma for years before then.
Cohen: "I know. What a shame. Sharon was magnifique. I do not know who to vote for."
What do you know about Israeli politics?
Cohen: "Nothing."
Jamie: "I am familiar with Bibi and Lieberman. Lieberman is also good, a strong man. So maybe I'll vote for Lieberman, or maybe for Bibi."
You've been in Israel for nine years, right? But your still not fluent in Hebrew?
Jamie: "Because I live in Netanya, I speak only French. Everyone here is French – a French physician, a French pharmacist; only French all day."
Bibi is all they know
We spent the entire day in Netanya, speaking only to immigrants from France, and then we bumped into Lilach Segev, a Labor Party activist and veteran resident of Netanya who was at the Park Hotel, where the polling station for the party primaries was stationed.
Does Labor have party members in Netanya who are immigrants from France?
"They're all right-wingers. But that's because the right poisoned them – when they were still living in France. They drove it into their heads that Labor is going to divide Jerusalem and they bought it."
But Sarah Bouer, 25, who immigrated to Israel with her parents and brother from Marseilles some 10 years ago, disagrees. "They vote Bibi because it's the only name they know, and not because they are familiar with his positions," she said when we met with her at a café-restaurant on the beach. "Most of the immigrants from France don't follow the Israeli media. They still watch the French news channels. Bibi appears on these channels so he's the only Israeli political figure they know of.
"Add to this the fact that the community itself doesn't take enough interest. It lives in a cultural ghetto and doesn't try to integrate into Israeli society. We have our own cafés because the waiters speak French, and our hairdressers are French too. I vote for Bibi because Bibi is all I know. Israeli politicians don't address our community."