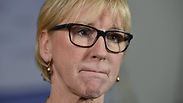 Wallstrom was told to bring her own security personnel on trip to Israel.
Photo: AFP
A high-ranking government official revealed on Saturday that Swedish Foreign Minister Margot Wallstrom canceled her trip to Israel after she was notified that she would have to bring her own security personnel and that her trip would not be considered an official state visit.

The very public breakdown in relations between Sweden and Israel began after Sweden officially recognized Palestine as a state in October. After a series of jabs thrown between Foreign Minister Lieberman and Wallstrom, Wallstrom continued the battle, which has played out in the media, this weekend, calling Israeli policies were "extremely aggressive."

The Israeli government source revealed that Wallstrom canceled her trip after facing many obstacles set forth by the Israeli government.

Wallstrom had planned to arrive in Israel for a memorial ceremony for Raoul Wallenberg and also hoped to use the opportunity to visit the Palestinian territories governed by the Palestinian Authority.

According to government sources, the Swedish FM tried to force her visit and did not understand the "hints" being sent to her by the Israeli government that she was persona non grata.

At first, Israel made it clear that the president, prime minister and foreign minister would not be able to meet with her. Afterwards, when Stockholm inquired as to who would provide security for the Swedish FM, the Jerusalem office responded that that Swedish delegation would be invited to submit a request to provide their own security. In the end, the Israeli tactics took their toll and the Swedes announced that the trip would be rescheduled because of "scheduling constraints."

Over the weekend, Wallstrom said Israel had irritated close allies by over-reacting to Stockholm recognizing the state of Palestine, saying its rhetoric over the issue had "crossed all limits".

"It is unacceptable how they have been talking about us and everybody else," Margot Wallstrom said in an interview in daily Dagens Nyheter. "It has irritated not only us, but the Americans and everyone who has anything to do with them right now."

Sweden, under the new government led by the Social Democratic Party, was the first country in the European Union to recognize the state of Palestine. The move sparked an angry response from Israel, who recalled its ambassador back to Jerusalem for consultations, but has since sent him back to Stockholm (on a symbolic date - November 29).

The Swedish precedent led European parliaments - including France, Britain, Ireland and Spain - to vote in favor of Palestinian recognition, though these votes were merely symbolic and were not binding.

A senior diplomatic official in Jerusalem said the Swedish minister's comments are a testament to "injustice" and that the Swedes were "feigning ignorance."

According to the official, "the Swedes knew very well that we are angry about their decision. This precedent of Sweden, which claims to be a peace-seeking country, is a strong statement that could lead others to make similar moves. We clarified to them that even after the ambassador returned to Stockholm, the anger remained. There's a limit to their behavior.

"What were they thinking? That we'd roll out the red carpet for the Swedish foreign minister after this kind of behavior? The Swedes didn't get the hint that we didn't want her to visit at this time, certainly not during election time. They decided it does not work for them and insisted on coming. They tried to force a visit on us. It was clear to us they wanted to reap the fruits of their decision with the Palestinians," the official said on the Swedish minister's intention to visit the Palestinian Authority as well.

When the crisis with the new Swedish government first broke out, Foreign Minister Lieberman and his Swedish counterpart Margot Wallstrom had an unusual exchange of jabs. "The Swedish government should understand that Middle East relations are more complex than a piece of self-assembled IKEA furniture," Lieberman said. To this, Wallstrom responded that she "will be happy to send Israel FM Lieberman an IKEA flat pack to assemble. He'll see it requires a partner, cooperation and a good manual."