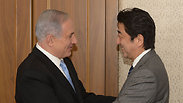 ראש הממשלה בנימין נתניהו ו ראש ממשלת יפן שינזו אבה ב ירושלים
Photo: Amos Ben Gershom/GPO
Japanese Prime Minister Shinzo Abe and Prime Minister Benjamin Netanyahu on Sunday called for greater bilateral economic cooperation during a meeting in Jerusalem.
Abe arrived in Israel as part of a six-day tour in the Middle East. He was accompanied by an entourage of some 100 people, including government officials and 30 Japanese company executives arriving to discuss investment opportunities in the country.
"Japan and Israel are both countries that don't have much of the natural resources but what we have is human resources," Abe said, adding that ties are growing "in every field."
It was the first visit to Israel by a Japanese premier since 2006.
Earlier this month, the government approved a plan to strengthen economic ties and cooperation with Japan.
"I hope to send a message that Japan will offer support in non-military fields to contribute to regional peace and stability," Abe told reporters ahead of his departure.
Netanyahu said on Sunday a wave of anti-Semitism and what he called "Islamisation" in Western Europe are factors in a Jewish state push to expand trade with Asia.
Europe is Israel's biggest trading partner, but deepening diplomatic disputes over policy toward the Palestinians and anti-Jewish incidents such as a Jan. 9 attack by an Islamist gunman on a Paris kosher deli have triggered Israeli worries.
Netanyahu, a free-market champion who is also serving as finance minister after firing Yair Lapid and sending Israel to an early elections, cast his courting of China, India and Japan over the past two years as a partial response to European developments.
"I put emphasis on markets to the East not because we want to give up on other markets. But we definitely want to reduce our dependence on certain markets in western Europe," Netanyahu told his cabinet in remarks at which reporters were present, without naming specific countries.
"Western Europe is undergoing a wave of Islamisation, of anti-Semitism, and of anti-Zionism. It is awash in such waves, and we want to ensure that for years to come the State of Israel will have diverse markets all over the world."
The Japanese prime minister is regarded as a close ally of Israel. Since taking office in Dec 2012, the two countries achieved a breakthrough in their relations. However, upon Abe's request, a joint press conference with Netanyahu was cancelled and the two will instead make a joint statement.
According to estimates, the Japanese requested to cancel the press conference out of concern that Netanyahu would use of it for political purposes ahead of the upcoming elections. Abe will hold a press conference alone, open only to Japanese reporters that arrived with him.
The last time a Japanese leader visited Jordan, Israel and the Palestinian territories was in 2006 when Junichiro Koizumi was in office. Abe was the last premier to visit Egypt during his brief first stint in the top job in 2007.
.
His itinerary includes a visit to Yad Vashem—Israel's national memorial in Jerusalem to the victims of the Holocaust, 70 years after the end of World War II.
According to Israel's Central Bureau of Statistics, Europe accounted for 45.8 percent of imports and 35.8 percent of exports in the first 11 months of 2014. Asia accounted for 22.5 percent of Israeli imports and 25.4 percent of Israeli exports.
Israel's parliamentary TV channel aired the results of a poll in which respondents were asked "Can Israel do without exports to Europe and pursue policy that is liable to bring about an economic embargo?" Sixty-two percent of Israelis said no, 32 percent said yes.
Reuters and AFP contributed to this report.