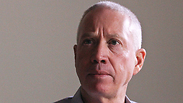 Yoav Galant
Photo: Ido Erez
The Kulanu party's newest recruit, Maj.-Gen.(res.) Yoav Galant, hinted on Sunday evening that the timing of an alleged IAF attack in Quneitra, which claimed the life of Imad Mughniyeh's son, was motivated by the Israeli elections.

Galant, who served as the GOC Southern Command, told Channel 2's Oded Ben-Ami that "judging by past events, you can learn that sometimes there's a timing that is not unrelated to the elections campaign."

Galant made his comments before reports emerged that one of the Hezbollah men killed is Jihad Mughniyeh, who was recently made Hezbollah's commander in the Syrian Golan Heights, and is the son of Imad Mughniyeh who was assassinated in 2008.




Regarding the timing of the attack, Galant said that "if you're looking at the previous elections, the timing of the assassination of (Ahmed) Jabari - it wasn't something that could've only happened on that date. I was a GOC five years prior to that, and there were a lot of events and opportunities when we could have and should have done that, and I recommended it. For some reason it didn't happen in those opportunities."

Jabari, Hamas' chief of staff, was assassinated by Israel two months ahead of the 2013. His assassination served as the opening shot of Operation Pillar of Defense in November 2012.

Galant noted that Jabari's assassination led to Hamas' response ahead of the elections in which Prime Minister Benjamin Netanyahu was re-elected to a third term.

Meanwhile, Defense Minister Moshe Ya'alon used the reports of the strike as an opportunity to slam Zionist Camp leaders Isaac Herzog and Tzipi Livni.

In a radio interview, Ya'alon refused to comment on the attack. "I don't want to address different sources in the area. There are always stuff happening in the region. Of course, they blame us. I'm not interested in commenting on this."

He then proceeded to attack Herzog and Livni: "If Buji and Tzipi were leading the state of Israel over the past two years, then we would've had Hamastan in Judea and Samaria a long time ago, and this is a major issue, and the Iranian threat is another major issue. So we must not waste votes on small parties or atmosphere parties that rise and fall, and sometimes are just a package without a product."

Ya'alon also commented on Hezbollah leader Hassan Nasrallah's interview aired last week. "He denied having Hezbollah men in the Golan Heights. So if it's true then he needs to explain (what they were doing there)."

Hezbollah's Al Manar television channel confirmed on Sunday night that five fighters - including Abu Ali al-Tabtabai, the Iranian Commander in the Syrian Golan Heights - were killed when an Israeli helicopter fired two missiles at a convoy on a field reconnaissance mission in Quneitra.

A reporter from the Hezbollah journal al-Akhbar wrote on his Twitter page that "the Hezbollah leadership is the one that will decide how to respond to the recent Israeli aggression, however this blow is uncontainable."