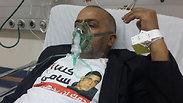 One of the men wounded in the rioting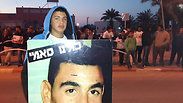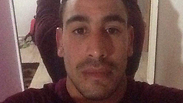 One man was killed and 22 were wounded, one seriously, in rioting on Sunday night at the funeral of Sami al-Ajar, who was killed last week in clashes with police in Rahat. Two policemen were also wounded in clashes near the cemetery - one moderately and the other lightly.

During the funeral, which was attended by thousands of people, a police car entered the cemetery's area and was pelted with stones and rocks. The policemen in the car were extracted by additional forces called to the scene, and used tear gas to control the rioters.

Rioting at the funeral (צילום: רועי עידן)

The wounded were evacuated to the Soroka Medical Center in Be'er Sheva, where one who arrived in critical condition died after suffering from a heart attack.

Another man was seriously wounded after being shot in his upper body. A man in moderate condition suffered wounds to his limbs, and 20 others are in light condition after being hit with stones and other objects, as well as from smoke inhalation. Several of the wounded claimed police used rubber bullets.

Following the clashes at the funeral, police said: "In a democratic country, in which law and order are at its core, there can't be a situation in which residents attack lawmen who came to do their job. This is challenging the rule of law. We expect the leaders in the (Arab) sector to prevent a further deterioration of the situation and work to restrain the rioters. We won't allow anyone to hurt policemen and will act determinedly against outlaws."

Al-Ajar was killed during a police raid of a suspected drug house in a Rahat neighborhood. The Police Internal Investigations Department is investigating the incident.

The police action created a chaotic scene. Two suspects were arrested, after which officers were attacked by a crowd and pelted with stones. The officers said they fired into the air to escape. A police source said the officers were "brutally attacked" and were protecting the arrested individuals with their bodies.

Khaled al-Ajar, Sami's father, told of the incident: "I was sitting in my home, heard shooting and saw two people on the floor being handcuffed. They were being beaten. My son stood next to me, complaining about having tear gas in his eyes. And then he told me 'they killed me, father,' and lifted his shirt. They shot my son with no justification. No one posed a risk to them. They handcuffed me and beat me. They broke my hand. They're trying to cover up this story instead of catching the policemen who murdered him. I demand justice. We don't want violence."