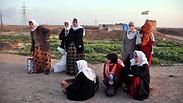 Two Yazidi sisters escape IS group after elderly Yazidis released.
Photo: EPA
Adeba Shaker, a 14-year-old from Iraq's minority Yazidi sect, recalled the day when she smiled again for the first time since her abduction by Islamic State militants. It was October 28, 2014, when she was reunited with her younger sister who had also been kidnapped and sold in a market.

Unlike 350 Yazidi elderly who were freed by the Islamic State group on Sunday, Shaker was forced to escape as the Islamic State group still keeps a tight grip on many young Yazidi women.

Shaker and 13-year-old Chenar found each other at a camp for internally displaced people just outside Dohuk, in northern Iraq, where Chenar came after being freed by a Sunni Muslim family who paid to save her from Islamist fighters.

"I can't describe how I felt, I was so happy," Shaker told Reuters at the camp. "Now we need to find everybody else."

Sixteen of Shaker's relatives are still being held by Islamic State fighters who control large swathes of Iraq and Syria. They were abducted from their village in the Yazidi heartland of Sinjar in northwestern Iraq, and separated.

Islamic State has hounded ethnic and religious minorities in northern Iraq since seizing the city of Mosul in June, killing and displacing thousands of Christians, Shi'ite Shabaks and Turkmen who lived for centuries in one of the most diverse parts of the Middle East.

Hundreds of Yazidi women and girls have been captured, raped and tortured, and forced to convert to Islam and marry Islamic State followers, according to rights groups.

Shaker was trafficked to the Syrian border and was given as a "gift" to fighters on the frontline. She was converted to Islam and forcibly married to one of them.

Young Chenar was sold at the local market. Just hours before the bidding started, a Sunni man noticed her. "He said I was too young," Chenar said.

He paid $1,500 for her and brought her to his home. "As soon as I stepped in the house, he allowed me to call my family."

Although she was told she would be released, the man told her to be patient.

"The Daesh (an Arabic acronym used for the Islamist group) were watching all our moves, it was a very dangerous situation for everybody," she said.

Chenar was held in the man's house for 55 days.

"I wasn't asked to do anything in the house. I would just eat and sleep. They were kind to me, although I was not permitted to go out."

The sisters told their story while sitting in their tent in the Shariya refugee camp that opened in mid-November. They live with two brothers, two cousins and an uncle.

"We know other members of our family are still alive, some of them called us, but they have not been able to escape," said Sal, one of the brothers.

The Yazidi are a religious sect whose beliefs combine elements of several ancient Middle Eastern religions. Tens of thousands have fled Islamic State fighters, who say the Yazidi must embrace their radical version of Islam or die.
Harsh life in camps
Shaker escaped from a house in Raabia, Iraq, in late August when her Islamic State captors received a phone call and stormed out. She took the chance to escape, running towards the Syrian border and to safety with Kurdish fighters.

She is now focused on finding her mother and sisters and leaving Iraq for good.

"Nowhere is safe here for us. I want to go away. I want to go to America."

In the meantime, the family faces harsh, wintry conditions in the camp, where water seeps into tents when it rains. And fear remains.

Some of the nearly 3,000 families sheltering at Shariya are Sunni, the branch of Islam followed by Islamic State, and Shaker, like many others, fear further violence.

"They are scared to be harmed again and, as a result, there is constant tension," said Stefano Nanni, who works at the camp for Italian aid group Un Ponte Per.

Nanni said the two groups were housed in separate sectors of the camp, but he thought they would have to be moved to different camps.

There are 21 camps in the Dohuk area - five still under construction - where 700,000 people live, most of them Yazidis.