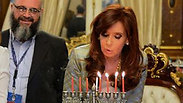 Prosecutor investigating 1994 blast at Jewish community found dead in Buenos Aires apartment.
The Argentine prosecutor who had accused President Cristina Fernandez of burying an Iranian role in the 1994 bombing at the AMIA Jewish center in Buenos Aires has been found dead in his apartment, local media reported on Monday.

Alberto Nisman, 51, the state prosecutor investigating the 1994 attack that killed 85 people - Argentina's worst ever bombing - said last Wednesday that Fernandez had opened a secret back channel to a group of Iranians suspected of planting the bomb.

He had said the scheme intended to clear the suspects so Argentina could start swapping grains for much-needed oil from Iran.

Related articles:
Israel to Argentina: Continue work of late AMIA prosecutor
Ambito Financiero and other Argentine dailies reported Nisman was found dead in his bathtub in his flat in the luxurious Buenos Aires district of Puerto Madero.

"Dr Nisman has died, we are investigating the cause of the death. In the coming days we will determine the cause of death with an autopsy. We found a weapon," prosecutor Viviana Fein told journalists gathered at the scene in the early hours.

"I ask for seriousness, I ask for prudence."

Late Sunday, federal police agents in charge of Nisman's protection alerted their superiors that he wasn't answering phone calls, according to a statement from the Health Ministry. When he also didn't answer the door, they decided to alert family members, according to the statement.

When Nisman's mother wasn't able to open the door because a key was in the lock on the other side, a locksmith was called to open it, the ministry said. A .22 caliber handgun and a shell casing were found next to Nisman's body.

Israel's foreign ministry expressed "deep sorrow" over Nisman's death.

"Nisman, a courageous, venerable jurist who fought intrepidly for justice, acted with determination to expose the identities of the terrorists and their dispatchers," a ministry statement said.

Lawmaker Patricia Bullrich told television channel TN that members of parliament would meet on Monday morning to discuss the situation.

Nisman had been due to appear in front of lawmakers on Monday afternoon to explain his accusations against the president.

The security ministry could not be immediately reached for comment.

Argentine courts have accused Iran of sponsoring the 1994 bombing, a charge Iran denies.

In 2013, Fernandez tried to form a "truth commission" with Iran to jointly investigate the bombing. She said at the time that the pact would reactivate the probe, but Israel and Jewish groups said it threatened to derail criminal prosecution of the case.

The truth commission pact was later struck down by an Argentine court.

Nisman had said the truth commission was intended to help get Interpol arrest warrants dropped against five Iranian suspects as a step toward normalizing bilateral relations.