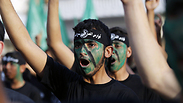 Hamas members in Gaza
Photo: AFP
BRUSSELS - The European Union will appeal against a court ruling that the Palestinian Islamist group Hamas should be removed from the bloc's terrorist list, an EU official said Monday.
"(The EU) Council has decided to appeal the judgement regarding Hamas remaining on the EU terrorist list," EU spokeswoman Susanne Kiefer said on Twitter.
Related articles:
Hamas removed from EU terrorist list on technicality
Netanyahu: Hypocritical Europeans have 'learned nothing' from Holocaust
The General Court of the European Union ruled last month that Hamas should be removed from the terrorist list, saying the decision to include it was based on media reports not considered analysis. It said the contested measures were not based on an examination of Hamas' "acts examined and confirmed in decisions of competent authorities" but on imputations derived from the media and the Internet.
Prime Minister Benjamin Netanyahu swiftly called on Europe to maintain the ban. "We expect them to immediately put Hamas back on the list," he said, denouncing Hamas as "a murderous terrorist organization".
Anti-terror alliance
Meanwhile, the European Union is calling for an anti-terror alliance with Arab countries to boost cooperation and information-sharing in the wake of deadly attacks and arrests across Europe.

EU foreign policy chief Federica Mogherini said Monday "we need to strengthen our way of cooperating together."

She spoke to reporters ahead of talks with EU foreign ministers in Brussels, to be attended by Arab League Secretary General Nabil Al-Araby.

The foreign ministers' meeting will prepare in part for a summit of EU leaders in February focused on terrorism.