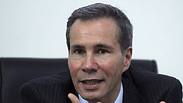 Alberto Nisman
Photo: Reuters
Israel urged Argentine authorities on Monday to carry on with the work of a prosecutor who was found dead after having alleged a cover-up in the investigation of Iran over the 1994 bombing of a Jewish community center in Buenos Aires that killed 85 people.

Alberto Nisman had accused Argentine President Cristina Fernandez of having opened a secret back channel to a group of Iranians suspected of planting the bomb, with a view to clearing them so Argentina might trade grains for much-need oil from Iran.

Argentina's cabinet chief rejected the charge as "absurd".

Nisman's body was discovered in his apartment, a handgun nearby, hours before he was due to explain his allegations at the Argentine parliament on Monday, authorities said. A formal ruling on the cause of his death is pending.

The Foreign Ministry in Jerusalem mourned Nisman's death "in tragic circumstances"

.

Nisman, the ministry said in a statement on Monday, was a "brave and prominent jurist who fought ceaselessly for justice (and) worked with great resolve to expose the identities of those who carried out the terrorist attack and those who sent them.

"The State of Israel voices hope that Argentine authorities will continue with Nisman's activities and make every effort to exact justice on those responsible for the terrorist attacks in Argentina."

Argentine courts have accused Iran of sponsoring the 1994 bombing at the AMIA centre in Buenos Aires, which killed 85 people, a charge the Islamic Republic denies. In 2007, Argentine authorities secured Interpol arrest warrants for five Iranians and a Lebanese over the bombing.

A similar attack two years earlier on the Israeli Embassy in the Argentine capital killed 29 people.