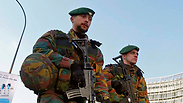 Heightened security in Belgium
Photo: Reuters
The images from last week's terror attacks in Paris were not foreign to Israeli eyes; and it's safe to assume that among the means and measures employed by the French security forces were products of the Israeli commercial security industry.

Don't expect confirmation of this; confidentiality agreements and the fact that the use of Israeli-made measures is an increasingly touchy issue will keep things under wraps. Nevertheless, the use of these Israeli-produced security measures is likely to increase from now.

Just as Operation Protective Edge boosted interest in the Israeli missile defense systems, the attacks in France have sparked increasing interest of late in Israeli homeland security industry products.

"Europe is not an easy market, and it is extremely influenced by the relations between Israel and the Palestinians," says one Israeli security source. "But the Israeli industries have know-how in niches that don't exist in Europe. And when there's a need for specific technology for rescuing hostages, the Europeans will get their hands on it if it's Israeli."

According to Itamar Graff, a senior official at SIBAT, the international defense cooperation agency of the Israeli Defense Ministry, "For the Europeans, this is a new challenge; but we've been dealing with lone terrorists with a Kalashnikov for years; and Israel has a lot of know-how when it comes to early detection and coping with a terrorist incident.

"I can't elaborate here, but Israeli products have already been sold to counter-terrorism agencies abroad and to foreign police forces, in Europe too. The recent events, coupled with the concerns about Islamic State fighters returning to Europe from the Middle East, will prompt the Europeans into equipping themselves. The orders won't be coming in this week, but additional budgets will now be allocated to this end."

Unlike Israel's missile and armaments industry, which includes large, well-connected companies like Rafael Advanced Defense Systems, Israel Aerospace Industries and Elbit Systems, the homeland security industry comprises companies that are a lot smaller and have fewer ties across the sea. "We hold conventions and we have constructed a special pavilion for the small security industries in Tsrifin, so that we can invite visitors from abroad and help these companies earn recognition and make sales," Graff says.

The Defense Ministry doesn't release details regarding how much of Israel's security exports, which totaled $6.5 billion in 2013, comes from the field of homeland security; but it clearly does not constitute the lion's share at present. This is expected to change in the coming years.

"There is a lot of potential in homeland security, including the defense of airports, trains and ports," Graff says. "Over the coming years, Europe is expected to spend some $50 billion on procurement in this field; and although most of the money will remain on the continent, there are enough niches for Israeli companies to link up with."

Terrogence: Rooting out terror online

Founded a decade ago, Terrogence provides open-source intelligence to the Israeli government and its allies, and specializes in intelligence-gathering from the Internet. Today, the company also provides intelligence in the field of terrorism and security to governments in Europe and Asia, with a focus on terrorist groups and Jihadist organizations.

Among other things, the company mines social media for information on instruction for preparing improvised explosive devices used by terrorist elements, trends and developments in the Jihadist world, terrorist organizations' capabilities, and more.

Already back in November 2014, company experts warned of the existence of instructions to carry out terror attacks in France and a pledge of allegiance to Islamic State. The terrorist at the kosher supermarket in Paris followed these instructions to the letter.

San Hitec: Door-busters

Breaching structures in which hostages are being held requires solutions that are quick, accurate and stealthy so as to preserve the element of surprise. Sun Hitec specializes in providing engineering solutions to problems of this kind that face counter-terrorism units, and most of its operations are classified.

The company produces a line of portable hydraulic tools used by military forces, fire fighters, rescue teams, law enforcement forces, and SWAT and security forces.

Camero-Tech: Seeing through walls

Camero has been around for a decade and is a world leader in Sense-Through-The-Wall (STTW) solutions for observing multiple stationary and moving objects concealed behind walls or barriers. Camero's systems are portable and run on batteries.

Four Troop: Boosting security

One of the companies that is already operating in Europe is Four Troop, which was founded some five years ago and specializes in providing human resources services, consulting and training in military and security professions. The company also provides bodyguard services for individuals and delegations, as well as armed and unarmed security personnel for ships.

M-Tacs: Medical solutions and tactics

Established five years ago, M-Tacs specializes in supplying custom-made medical solutions to military, law enforcement and emergency service units.

The company provides medical training to government and private security forces in Israel and abroad, along with state-of the-art tactical medical gear such as medical kits and suitcases for doctors, paramedics and medics. The company also acts as a consultant for dealing with multi-casualty incidents.

Securetec: Know your enemy

Securetec Internet Enterprises, which recently celebrated its 10th birthday, offers special training to government and security officials to familiarize them with Arab and Muslim society.

The company's founders, all former defense establishment officials, draw on their years of experience among the Muslim-Arab population in Israel and elsewhere to provide tools and information about points of friction and contact with the civilian population, and how to retrieve intelligence from interrogations in the field.

Karil: The seeing ball

Karil International, a part of the Mistral Group, has a product that is already being used by the Israel Defense Forces – the EyeBall, a camera system with audio and continuous 360° rotation capability that reduces the danger associated with gathering information in small hazardous and confined spaces such as buildings, caves, tunnels and alleys. There's also the EyeDrive, a wireless camera mounted on a small unmanned ground vehicle that relays real-time video and audio.