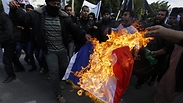 Salafists rally in support of French terrorists and Islamic State in Gaza.
Photo: AFP
Hamas security forces allowed a rare rally on Monday by rival jihadist Salafi activists in the Gaza Strip in support of Islamic State and the deadly attacks by three Islamist gunmen in France.

"Today, we are telling France and world countries that while Islam orders us to respect all religions, it also orders us to punish and kill those who assault and offend Islam's Prophet Mohammad," said one of the protesters, Abu Abdallah al-Makdissi.

The demonstration was held five days after French satirical weekly Charlie Hebdo, in its first issue since two gunmen burst into its Paris office on January 7 and shot dead 12 people, again published a cartoon of the Prophet Mohammad, sparking violent clashes in some Muslim countries.

Many of the activists in Gaza, an enclave dominated by the Hamas Islamist group, wore uniforms similar to those of Islamic State fighters and identified themselves as supporters of various jihadist Salafi factions.

Gaza's Salafis are proponents of global holy war endorsed by Islamic State and al Qaeda. Hamas, whose charter calls for Israel's destruction, says it does not operate abroad, and it has shown little tolerance for Salafi movements in the Gaza Strip, occasionally fighting gun battles with their members.

Dozens of Hamas police were deployed at the rally and outside the gates of the French cultural center, where the demonstrators gathered after burning French flags.

Jihadist Salafis held aloft posters of the two gunmen who carried out the Charlie Hebdo attack and a third militant who killed four people two days later at a kosher supermarket in Paris. All three attackers were killed by police on January 9.

"You have to await more heroes of Islam, you worshippers of the Cross," the crowd chanted.

Toward the end of the rally, scuffles broke out between demonstrators and police, who fired into the air to disperse the protest.