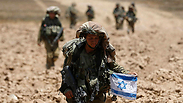 IDF fighters in the summer
Photo: Reuters
Chief of Staff Lieut. Gen. Benny Gantz on Monday approved the conferral of citations, awards, and decorations for 53 officers, NCOs, and soldiers (active duty and reserves) who fought in Operation Protective Edge.

In addition, citations and medals were granted to nine IDF units who participated in the operation.

The highest decoration of all – the Medal of Distinguished Service – was bestowed on Lieutenant Eitan Fund, whose story filled headlines following the kidnapping of Hadar Goldin.

According to the IDF, Fund led a force of four fighters, officers and soldiers, who entered a terror tunnel in search of the captured officer.

Fund entered the tunnel armed only with a gun and with no means of protection. He then found evidence that helped determine that Goldin was deceased.

Four fighters received the Chief of Staff Citation. The first was Master Sergeant (res.) Omri, a Duvdevan Unit fighter who volunteered to lead an operation on August 2, during which he used his body to protect a soldier from a fragmentation grenade and risked his life to help evacuate the wounded.

The second was Staff Sergeant (res.) Yogev Ofir, a Nahal Brigade fighter who returned fire in a deadly incident on July 25.

When his ammunition ran out, he took his wounded comrades' ammunition and continued to provide covering fire during evacuations.

He continued treating wounded soldiers and encouraging them while returning fire to the source of the shooting, even though he was also wounded in the battle.

The Chief of Staff Citation was also given to Sergeant Sahar Elbaz, of the Givati Brigades' Rimon Unit.

During an attack on his unit, his comrades took cover inside a mosque, while Elbaz remained at his post and returned fire to terrorists who attacked him with gunfire and fragmentation grenades.

Before his weapon malfunctioned, Elbaz killed four terrorists.

The fourth recipient of the Chief of Staff Citation was Sergeant Yehuda Vislitzky, who on July 20 saw that his commander had been wounded.

He took his place and called for help while covering for the evacuation team.

Vislitzky took command of the tank, returned to the field, and filled the role of tank commander and loader-signaler for an entire night.

Among those receiving decorations were five fighters who fell in battle.

Other recipients included four women recognized for their service.

Three units were granted the Chief of Staff Citation: Maglan, the mechanical-engineering battalion, and Sayeret Matkal.