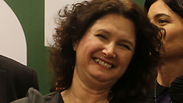 They may not be the most popular people, and they haven't been members of the government coalition for years; it turns out, however, that for the ordinary citizen – and primarily those who almost never vote for them – the Meretz MKs serve as public ombudsmen and social workers.
Ilan Gilon, for example, who was injured recently by police when he showed up to offer assistance to the Givat Amal evacuees, has become the director of a one-man distress center. Over the course of his last term as an MK, hundreds of citizens, including ultra-Orthodox and settlers, called him up to ask for his help.
Michal Rozin, who the Israel Democracy Institute named as the Knesset's top parliamentarian, also received numerous requests for assistance – from victims of sexual abuse, asylum seekers and numerous others.
And Avi Dabush, who joined Meretz just six months ago and received the eighth spot on the Knesset list -- the first unrealistic spot -- in Monday's primary, will tell you how Rozin and Meretz leader Zahava Gal-On once helped him out when he got stuck without a passport before an important trip.
Not American Idol
The latest opinion polls, particularly those conducted after the Labor Party primaries, haven't been very flattering for Meretz, with some indicating that the party will lose one of the six seats it held in the outgoing Knesset.
"I'm hoping things will pick up," says Gilon. "People need to remember that we are not American Idol or a reality show. They say we aren't new, but they forget that half of the MKs on the list were elected less than two years ago and have already become outstanding legislators. Like always, once the Knesset list has been selected, we will start to pick up in the polls."
Rozin: "Meretz has been perceived over the years as being opposed to everything – anti-Jewish, anti-state. I'm not saying that we should drop our principles, but this on-going anti gives off an air of condescension and arrogance. We need to fly our colors, but out of respect for the other and by presenting a clear philosophy that makes room for and respects the other. In brief, we need to get our message across in an authentic manner without stirring unnecessary provocation."
Dabush: "Meretz is an honest and reliable party, and that's a huge asset. Fact: It's the most socially oriented party in the Knesset and this can capture a broad audience. The Knesset list needs to include Arabs, Mizrahim and Russians in the top 10. We need variety and we need to invest in the periphery."
Gilon: "We also need to tell the public that it should support us because it is already familiar with us and our commitment. I also expect the citizens to ask themselves every day what they do for the country, and every other day to ask what it does for them."
However you look at it, Meretz gets most of its support from the Dan region, from the so-called State of Tel Aviv. Perhaps this is your biggest problem.
Gilon: "We are dealing with a stigma that the left-wing has rightfully earned, because the left always thinks it is right and that's it. There's a need for change and the change is coming, albeit slowly. Nevertheless, everyone should know – Meretz is the reddest, the greenest and the grayest, and works with the cleanest hands."
Dabush: "On the one hand, it's wonderful that we have a strong support base of around five seats. This is a bloc that we cannot forgo and must not take for granted. At the same time, I think we need to address other audiences who aren't always aware of what Meretz does for them."
Rozin: "It makes sense for Tel Aviv, Israel's cultural and academic capital, to influence Meretz, but we certainly need to boost the social issue. We don't seem to be able to break the stigma and attract the voters."
Meretz is trying to highlight the divide between the prejudices and the reality – but to no avail in most instances.
For example, party leader Gal-On lives in Petah Tikva, as does Rozin; Gilon is from Ashdod; Issawi Frej lives in the Triangle; and only Tamar Zandberg actually lives in Tel Aviv; yet Meretz is still seen as a Tel Aviv party.
Dabush, a social activist and Mizrahi from the periphery, is trying to change this image.
And while Meretz MKs were the outgoing Knesset's top legislators, and particularly when it came to civil issues and providing assistance to the weaker sectors of the population, the public does not perceive them as so because they don't scream and shout in the committees or from the Knesset podium.
And of course they're immediately suspected of being just a little too fond of the Arabs and willing to hand over parts of the homeland without hesitation.
No united left-wing bloc
Rozin, Gilon and Dabush are all strongly opposed to the idea of uniting the left-wing parties into a single bloc. Their main argument is that a vote for Meretz ensures a left-wing government, if such an option exists, as opposed to a unity government for example.
"We get asked the same question every election campaign," Rozin says. "Why not? Because I can't trust (Isaac) Herzog not to go with (Benjamin) Netanyahu. He's done so before and I don't want my vote to go to Bibi. I believe with all my heart that by going to the polls separately, we boost rather than reduce the bloc."
Dabush: "Meretz, as opposed to Labor, is very clear when it comes to its social and political positions and doesn't cloud its viewpoints."
Gilon: "They need to prove to us that joining up is good for the bloc. This is not the case."
One thing all three are willing to promise is that they will not under any circumstances join a government with Netanyahu and Naftali Bennett's Bayit Yehudi. And none of them show much concern about the new player in the game, Moshe Kahlon.
Gilon: "Kahlon lowered the price of cellular calls and now people can talk to each other and tell one another how their lives have gone to hell. Until we see a redistribution of the wealth and that people are being cared for, nothing here will change."
And what do you think of the Herzog-Tzipi Livni alliance?
Rozin: "A smart move on Herzog's part."
Dabush: "It has aroused interest on the ground and will boost the bloc."
Gilon: "Good luck to them. But when I see Livni, I see a car driving in the left lane at 70 kph, refusing to move to the right and holding up the traffic,"
What would you like to focus on in the next Knesset?
Dabush: "The fight against poverty, public housing, budgets for educational purposes in the periphery, the fight against racism; and as a very frequent user of public transport, I will focus on that too."
Rozin: "I will continue to stick to the ideological package, which stems from Meretz's distinct worldview."
Gilon: "To be seen as a leader today, all you need do is scream once or twice in the Knesset Finance Committee. I will continue to serve the public and would be happy if all of the elected representatives paid for their own coffee."