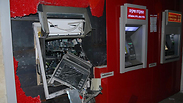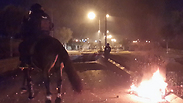 Rahat, Monday evening
Photo: Roee Idan
More than 5,000 people attended on Monday the funeral of Sami al-Ziadana, who was killed in riots that broke out on Sunday night following the burial of Sami al-Ajar, killed last week in clashes with police in Rahat. At the end of the funeral, dozens of young men threw stones at police forces, set fire to trash cans and tires and pelted a police station with stones.
During the riots, the protesters uprooted an automated teller machine machine of Bank Hapoalim. The officers were able to push back the protesters and arrested six of them.
Rioting at Sami al-Ajar's funeral (צילום: רועי עידן)
Among the participants at the funeral were Arab Knesset members and other Arab leaders. The participants shouted, "We will sacrifice our lives for the martyrs", "tomorrow is the Day of Rage", and "the Israeli government is a terrorist government".
Balad MK Hanin Zoabi, who participated in the funeral, said: "I am still shocked from the accounts I heard about police brutality against handcuffed protestors. This protest is carried out by people who are fighting for their rights and are not giving up."
Following the incidents, the High Follow-Up Committee for Arab Citizens of Israel announced a general strike throughout the Arab sector. Former member of parliament Taleb al-Sana, chairman of an umbrella organization of Palestinian-Israeli groups, said that schools and businesses would close from the Galilee in the north to the Negev desert in the south. During the day, demonstrations will be held in the Negev and in the Galilee.
"The general strike today is to send a strong message that the entire Arab community... strongly protests the murders of two citizens of the state of Israel whose only crime is being Arab," Sana told Israeli army radio.
A Rahat resident told Ynet: "We won't stop at a strike. We will continue to take to the streets and block roads. We will not sit silent while officers kill people. Officers don't treat Jews the same way."
Al-Ziadana was killed during riots that took place during al-Ajar's funeral, a 22-year-old who was killed last Wednesday during a police raid of a suspected drug house in a Rahat neighborhood. The Police Internal Investigations Department is investigating the incident.
The police action created a chaotic scene. Two suspects were arrested, after which officers were attacked by a crowd and pelted with stones. The officers said they fired into the air to escape. A police source said the officers were "brutally attacked" and were protecting the arrested individuals with their bodies.
AFP contributed to this report.