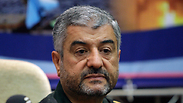 IRGC commander Mohammad Ali Jafari
Photo: AP
After confirming one of its generals was among those killed in an airstrike attributed to Israel in the Syrian Golan on Sunday, the commander of Iran's Revolutionary Guards (IRGC) said Tuesday that Israel should expect "devastating thunderbolts" in response to the attack.

This, Mohammad Ali Jafari said, will be "a new beginning point for the imminent collapse of the Zionist Regime."

Tensions in the Golan Heights have been high since Sunday, when a helicopter fired two missiles, killing Jihad Mughniyeh, Hezbollah's commander of the Syrian Golan sector and the son of master terrorist Imad Mughniyeh, along with five other Hezbollah fighters and six Iranian military personnel - including Iranian General Mohammed Ali Allah Dadi of Iran's Revolutionary Guard. The attack was largely attributed to Israel, but so the IDF has neither confirmed nor denied the reports.

Meanwhile, Iranian Defense Minister Hossein Dehqan said Tuesday in a meeting with his Russian counterpart Sergei Shoigu that "the terrorist act by the Zionist regime in the Golan Heights was the continuation of the regime's crimes in Palestine, Syria, Iraq and Lebanon and their open support for Takfiri terrorists."

The IDF raised its alert level on the northern front on Monday, in positions along the border with Syrian and Lebanon, as foreign media outlets reported that Iron Dome batteries were being deployed in the North.

Apart from the deployment of the missile interceptor batteries on the northern front – reported by Sky News in Arabic – there has not been a significant reinforcement of the forces on the border.

Yet, there are concerns in the security establishment that Hezbollah will attempt a retaliatory terror attack against Israeli forces which operate along the border. Thus, the soldiers were ordered to increase their level of alert and preparedness.

The international community is also concerned of a retalitory attack - France and the United States were working together on the diplomatic level in an attempt to keep restraint among all sides, Lebanese newspaper An-Nahar reported.

Hezbollah sources told the paper the organization's response to the attack will likely happen outside of Lebanon.

Newspapers affiliated with Hezbollah estimated that organization chief Hassan Nasrallah will make a speech soon to respond to the attack. Nasrallah was scheduled to speak on February 16 on the 7th anniversary of Imad Mughniyeh's death, as he does every year, but some believe he will speak as early as next week.