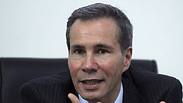 Alberto Nisman. 'Determined to settle accounts.'
Photo: Reuters
"The most senior officials involved in the prosecution, members of the intelligence service along with my government conspired to disrupt the discovery of the truth about the Iranian connection and avoid bringing those responsible to justice," Dr. Alberto Nisman told me during a meeting at my home in Tel Aviv in December 2007.

The discovery of his body is proof of the chilling determination of those people to do everything to prevent the truth being exposed.

Nisman had come to Israel to meet with intelligence officials, from whom he had requested information. In our conversation, he wanted to talk about the investigation he was conducting, and about hear the information collected during a series of Yedioth Ahronoth investigations about the attacks in Argentina on the Israeli Embassy in 1992 and the AMIA Jewish community center in 1994.

Related stories:

He was determined to settle accounts not only with Hezbollah and Iran, who were behind the attacks, but also with those Argentine officials who tried to whitewash their role. During that meeting, I was sure that this was empty bravado. I was wrong.

Nisman dared. He submitted a series of indictments and did not hesitate to speak out against the most powerful people in his home country who obstructed justice and fabricated evidence, even when it was clear that he was in danger and had to be assigned bodyguards.

Nisman accused President Cristina Kirchner of making a deal behind the backs of the Argentine public to cover up the affair in exchange for fat oil deals with Iran. Ultimately, after an investigation lasting a decade, no one had been convicted of the attack, and the two investigators on the case asked Nisman for help. He was soon named head of the team and for a decade did not let up.

Despite all attempts at a cover-up, Nisman managed to piece together a puzzle from thousands of phone calls, dozens of trips by Iranian diplomats, excessive bank transfers and overwhelming evidence. Under threats and pressure, he authored a comprehensive legal document, and persuaded Interpol to issue arrest warrants against Iranian officials, including former president Rafsanjani, and against Imad Mughniyeh.

Nisman's investigation became a political boomerang that came and went. For Nisman, there was one rebound too many. In our final phone conversation a few weeks ago, he sounded happy and more determined than ever to continue the investigation of his life. "I will keep going until the corrupt are on trial," he said.

This week, he paid for that dedication in his life. It is doubtful whether the investigation will continue after his death. It is more likely that the killers - and I have no doubt that there were killers - achieved their goal.

To me, he was a martyr, a man willing to sacrifice his life for the cause – the cause of justice.