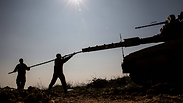 Soldiers maintaining tanks on border
Photo: AFP
"The fear exists like it does across the State of Israel, but we are making every effort to not let it disrupt our way of life," said a resident of Metula on Tuesday evening, ahead of another tense night in northern Israel, following the Sunday assassination of senior Hezbollah members and an Iranian general.

Military convoys leading tanks and armored personnel carriers were seen throughout the day in the Golan Heights and the upper Galilee and – though the denizens of the north attempt to deny the developments – memories of more trying times have been resurfacing.

The concern in the wake of the strike in Quneitra, which has been attributed to Israel, was significantly increased after an Iranian Revolutionary Guard, Mohammad Ali Jafari, said Israel should expect "devastating thunderbolts" in response to the attack.

He said these "thunderbolts" will be "a new beginning point for the imminent collapse of the Zionist Regime."

A northern section of Route 4, the old coastal road, was closed earlier on Tuesday due to its proximity to the border with Lebanon. Farmers from nearby towns were told to stay away from their fields near the border

Military sources said the closed section of the road is rarely used and only by local residents. The majority of the traffic in the area passes through the new road, Route 2.

On Tuesday morning, security forces were deployed to the border with Lebanon after a civilian convoy on the Lebanese side was seen carrying weapons, firing in the air, and waving Hezbollah flags. It was later discovered the convoy was part of a funeral procession from a nearby town.

One Metula resident said her children were home at the time because school had finished earlier than usual. "I only heard the hazlash (return to routine notification) because I didn't know what happened and the kids were home alone. I try to prevent the kids from watching the news, it only stresses them out."

The concerned mother added that "the fear is like it is across the country, because if there is a response it could be felt both in the Golan and in Tel Aviv. It doesn't have to be a specific area. There is an inconvenience to farmers, and no one is taking a risk and getting close to the international fence, but we try to let it affect us as little as possible."

Despite IDF statements urging calm among civilians, many northern residents were left considering whether to insist their kids slept in the protected shelters.

The official IDF directive to civilians was to maintain daily routines. The ambiguity emanating from Jerusalem regarding the strike led to a flood of rumors in northern Israel, both on Facebook pages and Whatsapp groups.

The loud echoes of explosives from training exercises in the Golan Heights, heard well into the upper Galilee, also contributed to the locals' rising tension.