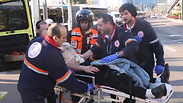 At least five wounded in terror attack
Photo: Motti Kimchi
A Palestinian terrorist armed with a knife stabbed 13 people during rush hour on Wednesday morning in a terror attack on a bus in central Tel Aviv. Four of the victims were badly hurt in the attack.
At roughly 7:15 am, Hamza Muhammed Hassan Matrouk, a 22-year-old from the West Bank town of Tul Karem, boarded Dan bus number 40 on Begin Road in Tel Aviv, close to Beit Maariv Bridge, and stabbed the driver and more than a dozen passengers before fleeing the scene. He was quickly tracked down by Israel Prison Service officers present in the area, shot and apprehended.
Of the wounded, four are in serious condition, three sustained moderate wounds and the rest were lightly hurt. People were also being treated for shock after the attack.
Hamas has welcomed the attack as an "heroic and courageous act."
During questioning, Matrouk said he committed the attack because of Operation Protective Edge and events at the Temple Mount. He also said hew as motivated by watching radical Islamic material that spoke of "reaching paradise".
Among the wounded is bus driver, Herzl Biton, 55. The father of three fought the terrorist, and sustained two stab wounds to the chest. He is in moderate condition, and was rushed into surgery.
"We were in our car behind the bus," an eyewitness told Ynet. "Suddenly we saw people getting off and running, screaming, and crying hysterically. We didn't know what to do. We were scared he was going to come towards us. Several ambulances arrived and they just evacuated everyone."
Tel Aviv District Police Commander Bentzi Sau hurried to the scene, where he described the attack as an incident with "serious nationalistic motive."
Internal Security Minister Yitzhak Aharonovich said that the "terrorist was in Israel without work visa."
The terrorist, who was captured some 400 meters away from the bus, "began attacking immediately after boarding the bus," Sau said. "After he hurt the driver, he went on to stab the passengers."
Sau praised the driver, saying that "he struggled with the attacker and slowed him down." He also praised the forces who had detained the terrorist.
Officers from the Nachshon unit of the Israel Prison Service, who hunted down and arrested the terrorist, were in the vicinity by chance. They had been escorting prisoners to the local courthouse and saw the terrorist carry out the attack. They gave chase, shot him in the leg and arrested him. The terrorist was evacuated to Wolfson Medical Center.
Their troops' commander said that "the soldiers had been driving behind the bus, and chased the terrorist until he was neutralized."
Before Wednesday, the most recent terror attack in Tel Aviv was also a stabbing, which took place in November. IDF soldier Almog Shiloni was killed after he was critically wounded while struggling with a Palestinian who attempted to grab his weapon at the Haganah Train Station in Tel Aviv.