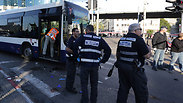 Stabbing attack in Tel Aviv
Photo: Yaron Brener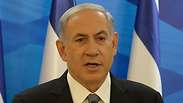 Prime Minister Benjamin Netanyahu
Photo: Amos Ben Gershom/GPO
Israeli politicians were quick to respond to Wednesday morning's terror attack which saw some 13 people stabbed on a bus in central Tel Aviv. With the elections looming in the background, the different leaders shifted in attributing blame for the attack.

Prime Minister Benjamin Netanyahu said the attack was part of a larger threat posed by Islamic jihadists, saying "it's the same type of terror that hurt us in Paris, Brussels and everywhere." However, Netanyahu blamed the attack on what he described as the "Palestinian Authority's incitement against Jews and their country."

"Hamas was quick to praise this attack, the same Hamas which is (Palestinian President) Abbas' partners in the unity government. The same Hamas which is threatening to take Israel tothe ICC in The Hague," the prime minister said.

"We will continue to fight the terror that is attempting to hurt us, and we'll make sure it fails," he concluded.

Head of the center-left Zionist Camp (Labor-Hatnua) Isaac Herzog took aim the current administration and slammed the overall deterioration in the security situation in Israel.

GRAPHIC VIDEO FROM SCENE OF TERROR ATTACK (צילום: ירון ברנר, מוטי קמחי, אלי סניור)

The stabbing is the latest in a type of "lone-wolf" attacks that have plagued Israel in recent months. About a dozen people have been killed in Palestinian attacks, including five people killed with guns and meat cleavers in a bloody assault on a Jerusalem synagogue.

"There is no sense of security for Israel's citizens – not in Jerusalem, not in the Gaza-border area and not in Tel Aviv," Herzog said.

"We cannot accept a situation in which Israel's citizens cannot travel safely on public transportation. The Shin Bet and police have our full support to conduct an unhindered battle against terror anywhere it poses a threat to Israelis, within our borders or without them," Herzog said.

Foreign Minister Avigdor Lieberman followed Netayahu's lead, and blamed Arab leadership: "Those standing behind this attack are also those who stand behind the riots in Rahat (a Bedouin town which has been scene to violent riots) and also were behind the string of terror attacks in Jerusalem: Abu Mazen, (Hamas leader) Ismail Haniyeh, Raed Salah (head of the Islamic Movement's Northern Branch) and Hanin Zoabi and Ahmed Tibi (two Israeli Arab MKs)."

According to the foreign minister "they are all part of the same attempt to undermine Israel's right to exist as a Jewish state, and it makes little difference to them if it's in Judea and Samaria (West Bank), the Negev, Tel Aviv or Jerusalem. They are all part of the same movement that wants to destroy the Jewish state."

Lieberman, head of the Bayit Yehudi party, also blamed Palestinian President Abbas, saying "the person responsible for this attack is the same one who marched alongside world leaders in Paris last week. When Abu Mazen incites against Israel day in and day out on television, when Abu Mazen names squares after terrorists and gives cash prizes for terrorists who kills Jews, he turns himself into the terrorist arms' dealer."

Bennett urged the Israeli government, of which he is a member, to cut funding to the Palestinian Authority: "Israel must stop the cash flow to the terrorist Abu Mazen as long as he continues funding terrorists' families. Words are no longer enough."

Former IDF general Yoav Galant, who holds the number two spot on Moshe Kahlon's center-right Kulanu party, said "defense is deterrence and action. We must protect every site from which the flag of Israel flies. We mustn't stand quietly in the face of rockets from Gaza, vehicular terror in Jerusalem or stabbing in Tel Aviv."

Meanwhile, Zehava Gal-On, chairwoman of the left-wing Meretz party, asked leaders to avoid using the attacks to further political goals. "I call on all political elements – don't incite and inflame the sector for cynical, propagandistic purposes. The only way to deal with terror is to deal with the factors that motivate terror," said Gal-On.

Former Military Intelgence chief Amos Yadlin, currently the center-left's candidate for defense minister, sent his support to security forces, and praised the bravery and alertness of Israelis who prevent the situation from further deteriorating.

Yadlin lauded "the alertness and ingenuity of Israeli citizens and the decisive actions of the police and IPS. I wish a quick recovery to the wounded. We must deal with a strong hand with those acting aggressively towards us and those sending them."