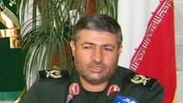 Iranian Brig. Gen. Mohammad Ali Allahdadi killed in alleged Israeli attack
A senior Iranian Revolutionary Guard commander says Israel will be punished for allegedly killing one of its generals in an airstrike in Syria attributed to the IAF that also killed six Lebanese Hezbollah terrorist fighters.
Nasser Soltani says "Israel will certainly pay for what it did." He spoke during a ceremony Wednesday for Brig. Gen. Mohammad Ali Allahdadi, who will be buried in his hometown of Sirjan in southeastern Iran on Thursday.


Soltani is quoted by the state TV as saying Allahdadi was "martyred while performing his advisory mission" in Syria.
Iran and Hezbollah, who are allied with Syrian President Bashar Assad's forces, blamed Israel for Sunday's airstrike in the Golan Heights.
Related stories:
Israel, which is believed to be behind a number of airstrikes in Syria in recent years, has neither confirmed nor denied involvement.
UN peacekeepers stationed in the Golan Heights along the Syrian-Israeli border observed drones coming from the Israeli side before and after an airstrike that killed Hezbollah fighters and an Iranian general, the United Nations said Monday.
The flight of the drones in the airspace over the Golan Heights was a violation of the 1974 cease-fire deal between Syria and Israel, UN spokesman Farhan Haq said.
Hezbollah said Sunday that an Israeli helicopter strike in Syria killed one of its commanders and Jihad Mughniyeh, the son of the group's late military leader Imad Mughniyeh.
Haq was asked if the UN observer mission deployed in the so-called area of separation in the Golan Heights, known as UNDOF, had seen anything. He said UNDOF had "observed two unmanned aerial vehicles flying from the Alpha side and crossing the cease-fire line."
The Alpha side refers to the Israeli part of the Golan. Haq said UNDOF saw the drones moving toward UN position 30, after which the UN observers lost track of them.
An hour later, he said, they saw smoke coming from position 30, though they were unable to identify the source of the smoke.
"Subsequently, UNDOF observed UAVs flying from the general area of position 30 and over Jabbata crossing the cease-fire line," Haq said. "This incident is a violation of the 1974 Agreement on Disengagement between Israeli and Syrian forces."
"We criticize all violations," he added, noting that the UN called on all sides to refrain from actions that could exacerbate already existing tensions.

Reuters contributed to this report