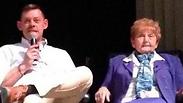 Eva Mozes with Rainer Hoess
At the age of 80, Holocaust survivor Eva Mozes agreed to adopt Rainer Höss, the grandson of the SS commander of Auschwitz during the time Mozes was imprisoned there.
The call is part of Mozes' mission to forgive those who wronged her during the dark days when she was a victim of cruel experiments by Nazi doctors, including the infamous Dr. Joseph Mengele.
Mozes' difficult story and ultimate path to forgiveness was featured in a report on VICE news in which Mozes described the unimaginable experimentation she endured and how, to this day, she does not know where she found the will to survive.
Rainer Hoess & me. (Eva Kor) It was wonderful to have Rainer answer the many challenging questions-I am a proud G'ma. pic.twitter.com/51u57DBsMr

— Eva Mozes Kor (@EvaMozesKor) October 3, 2014
Eva Mozes and her sister Miriam were part of a group of over one thousand twins used for experiments in Auschwitz at the hands of Dr. Mengele – widely known as the SS "Angel of Death."
Eva received an email from Höss last year which stated that he sought to meet her in person and give her a hug, according to VICE.
Eva first thought that the man must be an imposter. She could not apprehend that a Nazi's grandson would be capable of speaking out against his own grandfather. However, Höss sent a second email requesting Eva to become his adoptive grandmother.
Eva then decided she would meet him.
They met last July at Auschwitz and, according to VICE, Eva was immediately fascinated by the man's intelligence and bravery. She was impressed that despite Höss growing up surrounded by evil, he'd managed to turn out a decent human being, Eva told VICE.
Eva decided to accept Höss' offer, and adopted him as her own grandson. "I admire and love him. He had the need of love from a family he never had."
Höss severed relations with his family in 1985 and is especially angry with his grandfather for the crimes he committed during the Holocaust. Yet, just as Eva forgave those who acted cruelly against her, she urged Höss to forgive his father and grandfather.
"I do argue with him, as I don't always agree with everything he does. But I definitely love him," she said. "There is a real camaraderie and emotional understanding. People from different places who call each other grandma and grandson can give a sign of hope," Eva said to VICE.
Born in Romania in 1934 to a family of Jewish farmers, Mozes came to know the pain of discrimination at a very early age. When she was just six-years-old her village was occupied by Hungarian Nazis.
According to the VICE report, young kids in the village were encouraged to call Mozes and her sister "dirty Jews."
In 1944, the Mozes family was taken to a Jewish ghetto and in May of that year they were taken to Auschwitz in a cattle car, stuffed like sardines and malnourished during the long journey.
Mozes described to VICE the first moments when she arrived at the notorious Nazi concentration camp.
"When we arrived at Auschwitz we asked for water, but instead we got Germans yelling orders. I looked around and, just like that, my father and two older sisters (Edit and Aliz) disappeared in the crowd. I held onto my mother for dear life. I thought she could protect us," said Mozes to VICE.
This is my mother's stone engraved in. brass; birth, arrest & death dates-it was a very moving-a trace of our life pic.twitter.com/SMupx7VP0Z

— Eva Mozes Kor (@EvaMozesKor) July 18, 2014
A German officer then approached Mozes' mother Jaffa and asked if her daughters were twins. When she confirmed that they were, the two young girls were taken away by the officer. This was the last time Eva saw her mother.
"We were both crying, and mother's hands were spread in despair," said Eva to VICE. "We never got to say goodbye. I had the best mother on the face of this Earth."
This was just beginning of a series of traumatic experience Eva endured. After being separated from her mother, Eva and her sister Miriam were taken to a room where they were stripped, had their heads shaved, and tattooed.
Eva fought the guards so passionately that it took four of them to hold her down while her flesh was permanently inscribed with the number A-7063.
Eva and her sister were experimented on six days a week, according to the VICE report. The twins were placed in an observation lab every Monday, Wednesday and Friday – they were undressed and had their body parts examined for up to eight hours.
@CBSSunday & @LeeCowanCBS, you just showed me & my sister being liberated from Auschwitz. Here I am 62 yrs later. pic.twitter.com/cTH8Mexf5R

— Eva Mozes Kor (@EvaMozesKor) October 6, 2013
"They would spend three hours on my ear lobe – it was unbelievably demeaning. They treated me like I was nothing, like I was a piece of meat," Eva told VICE.
On Tuesdays, Thursdays, and Saturdays Eva and the other twins were further tortured during "blood labs" where, according to VICE, doctors injected her with five large needles in her right arm while simultaneously taking blood from the other arm.
Eva did not know what she was being injected with. The tests eventually landed Eva in the hospital for a couple of weeks. Eva told VICE that it was during her time in the hospital, where she suffered a dangerously high fever that she decided she would overcome the illness no matter what and reunite with her sister.
Eva will to live also saved her sister Miriam's life. The Nazi doctors had planned to kill Miriam after Eva died so that Mengele would be able to cross examine their bodies.
Eva and Miriam escaped that dreadful fate and managed to pull through until January 18th, 1945 when the Nazis ordered all the prisoners to march away from the camps with those who were unable to shot and killed.
After the Holocaust, Eva and Miriam returned to Romania to live with their aunt. The girls eventually moved to Israel in 1950 where Eva said she "slept for the first time without the fear of persecution because I was Jewish," she told VICE.
After studying at an agricultural school and joining the IDF's engineering corps, she married fellow Holocaust survivor Michael Kor in 1960 and they moved to the United States where they had two children, Alex and Rina.
After settling into their new country of residence, Eva began a long process of forgiveness 1978 so that she could be set free from her feeling of victimization.
Eva and her sister found 80 other pairs of twins within a week and later on they found 42 others, according to VICE.
In 1984, the Mozes sister founded the CANDLES (Children of Auschwitz Nazi Deadly Lab Experiments Survivors) foundation to spread the message that there is always hope after despair.
After meeting Dr. Hans Munch, a former Nazi doctor, and reading his witness statement over 50 years after the liberation from Auschwitz, Eva decided to write a later in which she personally forgave all the Nazis for their crimes.
It took Eva four months to work through the pain, according to VICE, but she said: "When I finished, I realized that the guinea pig had the power to forgive the God of Auschwitz."
"I had the power to forgive. No one could give me the power, or take it away from me. I refused to be a victim, and now I am free," Eva said to VICE.