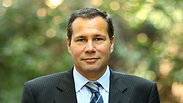 Dr. Alberto Nisman
Photo: Michael Kramer
Police investigators in Buenos Aires found a fingerprint and a footprint in an additional entrance, previously unknown to policem, to the apartment of Argentine prosecutor Alberto Nisman, who was found dead in his apartment earlier this week, the Buenos Aires Herald reported on Wednesday.

Nisman, 51, was found dead on Monday in his bathroom in a puddle of blood with a .22 caliber handgun and a casing next to his body. The door to the bathroom was locked. He appears to have committed suicide, but many of the details of the case are unclear and allegations of foul play have surged.

Nisman was the leading prosecutor investigating the attack that killed 85 people at the AMIA Jewish Community Center in Buenos Aires - Argentina's worst terror attack. He died just a few days after accusing President Cristina Kirchner of trying to protect Iranian suspects in the 1994 bombing of the Jewish community center.

According to the Buenos Aires Herald, a third entrance to the apartment was found - a hallway that connects Nisman's apartment to another unit owned by a foreign resident.

The hallway was often used by the building's air conditioning technicians. Investigators are now trying to determine how anyone could have had access to the hallway and whether a person could have reached the bathroom where Nisman's body was found through that hallway.

Investigators have said Nisman was alone when he died, and that the two doors to the apartment - a main entrance and a service entrance - were locked from the inside. Yet, a locksmith who came to open the locked front door said the doors where not well locked.

Reports that Nisman's neighbor was an Iranian national were confirmed to be false.
No proof to Fernandez's involvement in alleged coverup
The justice system in Argentina released Nisman's 300-page report, which includes his accusations against President Kirchner. Nisman was scheduled to testify in front of Congress and present his report's findings mere hours after he was found dead.
The report included hundreds of recorded phone calls between different government officials, judges, intelligence agents and intelligence officers who were all allegedly involved in the attempt to cover up Iran's involvement in the 1994 attack so Argentina could import oil from Iran and export grains to the Islamic Republic.
According to Nisman's report, Argentina desperately needed Iran's oil because of a shortage of energy sources in the country. Buenos Aires was also short on dollars, which it sought to rectify by selling more meat, grains and seeds to the Iranians.
Tehran demanded Buenos Aires to clear all of the Iranian officials who were accused of being involved in the bombing, as well as remove them from Interpol's most wanted list. Following these demands, Nisman claimed, President Kirchner's government opened a channel of communications with Tehran run by the "Iran supporters" in the president's close circle.
Despite having accused President Kirchner of helping to whitewash his investigation, Nisman could not obtain any recording or document that proved her direct involvement in the alleged cover up. Instead, he found that several government officials used to talk about "the boss" and claimed that it's not possible for a diplomat of that nature, such as the talks held with Iran, could take place without the instructions and permission of the executive branch.
Nisman 'tricked' into accusing Kirchner
A top government official said on Wednesday that Nisman was tricked into believing that two men who formed the backbone of his case against President Cristina Kirchner were government spies.
"They sold him on a connection that did not exist," said Anibal Fernandez, the president's chief of staff.
Asked by a reporter if Nisman had been "totally naive", Fernandez replied: "You said it better than me."
Antonio Stiusso, a senior Argentine spy, was fired in a December shake-up in the intelligence service, where one of his duties had been to help Nisman with the investigation into the 1994 bombing.
Chief of Staff Fernandez said it was Stiusso who falsely told Nisman that the two men who helped him build a case against the president were state intelligence agents.
The government has suggested Nisman's death may have been linked to a struggle within the state intelligence services but it has not provided details and no one has yet been detained.
Argentine courts accused Iran of sponsoring the 1994 bombing and secured Interpol arrest warrants for five Iranians. Iran's government has denied any involvement.
Nisman said last week that Kirchner wanted to whitewash the bombing and normalize relations with Iran in order to trade Argentine grains for Iranian oil. Argentina has a $7 billion annual energy gap, complicating the government's efforts to jumpstart a faltering economy.
"Kirchner was determined to use intelligence personnel to carry out the conspiracy," Nisman said in his complaint.
Kirchner and her ministers dismissed Nisman's charges as ridiculous.
A source who worked for years on the investigation with Nisman told Reuters that the lead prosecutor was sure of himself last week as he prepared to take his case to Congress.
"He was very determined ... No one (on the investigative team) believes he committed suicide," the source said, echoing the opinion of Nisman's ex-wife and others who knew him.