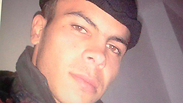 In Tulkarm, the home of Hamza Matrouk who stabbed over a dozen people in Tel Aviv on Wednesday morning, residents praised the attack, calling the terrorist a "real man" and a "hero."

Matrouk's family received a lot of support from residents of Tulkarm, including phone calls from people praising the attack.

Matrouk is the son of a security prisoner who married three women. The terrorist lived with his divorced mother in Ramallah and worked in electricity. He would come to Tulkarm once every two months.

"We saw him sitting next to the house with some friends yesterday. He ate dinner at a kiosk, drank and laughed. He didn't show any signs he wanted or intended to stab Jews," a Tulkarm resident said. "He wasn't affiliated with any political or religious organization. I don't think this was revenge because there weren't any special incidents recently, it's more a result of the mental and social situation he and his family had gotten into."


One of those who saw Matrouk on Tuesday said that he was talking about trying to find a job in Tel Aviv. "He took a ride with a driver bringing workers from the territories to Jerusalem and from there probably drove into Israel in an Israeli vehicle," he said.

On Facebook, some of Matrouk's friends wrote on his wall, praising him. "Personally, I'm very proud of him for doing something like that," one of the friends wrote. "I was surprised when I heard he was able to hurt 12 passengers on his own. This kind of act proves how strong he is and that he's a real man. You usually hear that a Palestinian hurt one or two people, we need to learn from him."

Security prisoner Tariq Fayyat, who lives in the same neighborhood, said such an act was to be expected. "This is a normal reaction to the criminal acts the Israeli army commits in the territories and in Jerusalem. No one is condemning this act, it was expected. We also suffer and live in a very difficult atmosphere. We all pray that Allah will give Hamza strength and have mercy on his family."

After his arrest, Matrouk was taken into questioning by the Shin Bet, where he said he committed the attack as revenge for Operation Protective Edge, the rioting on the Temple Mount and after watching extremist Islamic content on the internet. Matrouk stabbed 20 people, three of them in serious condition and two in moderate condition.

The Tel Aviv Magistrate's Court extended Matrouk's remand in five days.

Gilad Morag contributed to this report.