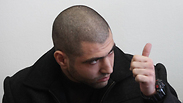 Hadi Kabalan at court, Wednesday
Photo: Gil Yohanan
The Jerusalem District Court on Wednesday convicted former Western Wall security guard Hadi Kabalan of the murder of Doron Ben-Shlush, a Jewish worshipper who was shot by Kabalan multiple times during his visit to the site in 2013. The panel of judges rejected Kabalan's claim that he had suspected Ben-Shlush was a terrorist.

The incident occurred in July last year, when Kabalan fired at least 12 bullets at Ben-Shlush near a public toilet in the vicinity of the Western Wall after Ben-Shlush reportedly insulted him for his Druze origin. Kabalan claimed that after performing a security check on Ben-Shlush, the latter uttered racist slurs against him and another guard, including: "These are gentiles, these are our dogs who work for us, we brought them from Syria," to which the defendant responded: "You are right. We are Druze dogs."

After their exchange, Ben-Shlush continued to swear at the two, until finally walking away. A number of the Kotel's regular worshippers said the victim was known to be a strange person. According to the indictment, after the defendant and the other guard continued with their jobs, Kabalan asked them if they would give him NIS 1,000 if he killed Ben-Shlush.

Approximately an hour and a half later, Ben-Shlush returned to the security inspection checkpoint, and Kabalan followed him into a yard used by maintenance employees. Kabalan then fired at least 14 bullets at Ben-Shlush. "The defendant stopped shooting only when he ran out of ammunition, after which he exited the yard," the indictment said.

Magen David Adom forces were rushed to the scene but were forced to pronounce the man dead after trying unsuccessfully to resuscitate him for 20 minutes.

According to people who knew the victim, Ben-Shlush was a known figure in the Western Wall. Some regular worshippers said that he had volunteered in a Chabad soup kitchen near the Kotel for several years. A number of others said he was homeless and slept in the street.
"Destroyed two families"
Many family members of Ben-Shlush arrived at the court house on Wednesday, wearing shirts with his image on it, and stressing that contrary to the media's negative portrayal of him, Ben-Shlush was not a mentally unstable man.
The victim's mother, who wept after the verdict was read, said: "Where did the 14 bullets enter your body, my son? How is it possible that you are gone?" Eleonora, Ben-Shlush's daughter, said: "It was difficult to come here today and see the man who murdered my father." Naomi, his sister, said: "I am happy that justice has finally been served."
The Ben-Shlush family and the Kabalan family noted that they had developed and maintained good relationships with each other. Naomi added: "His family found itself in the exact same situation that we are in; he destroyed two families."
The Kabalan family admitted that they had expected a different verdict. "He came to do his job as a security guard, and what happened, happened. By contrast, today a man boarded a bus and stabbed 12 people."