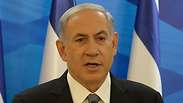 Prime Minister Netanyahu
Photo: Amos Ben Gershom/GPO
An internal disagreement, between the Mossad the Prime Minister Benjamin Netanyahu, over the Israeli policy on the Iranian nuclear program has come to light in a Bloomberg report on Thursday.

According to the Bloomberg reporters Josh Rogin and Eli Lake, the spy agency's officers have expressed their opposition to new legislation being proposed in the US Senate, in direct contradiction of the prime minister's position, who will be travelling to Washington in February to address the Congress on his support for a bill threatening Iran with a new round of sanctions.

The Obama administration, Bloomberg reported, has been using the internal divide to torpedo the bi-partisan proposal, penned by Senators Mark Kirk and Robert Menendez.

Meanwhile, Republican Senator Bob Corker, chairman of the Senate Foreign Relations Committee, has teamed up with Lindsay Graham and John McCain to propose a bill requiring the White House bring any deal with Iran to a vote in Congress.

The Obama administration opposes both measures and has warned the Senate to stay away from the delicate negotiations between Iran and world powers.

Mossad official have briefed the White House, as well as Republican legislators, on their opposition to the Kirk-Menendez bill, which would implement new sanctions on Iran if the negotiations fail to yield results by June 30 or the Islamic republic fails to live up to its commitments, Bloomberg reported.

Netanyahu, on the other hand, has expressed his support for the legislation, in particular, and sanctions on Iran, in general.