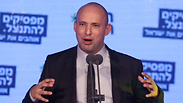 Bayit Yehudi chairman Naftali Bennett
Photo: Motti Kimchi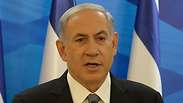 Prime Minister Benjamin Netanyahu
Photo: Amos Ben Gershom/GPO
Top Likud officials claim that Prime Minister Benjamin Netanyahu is holding secret talks with Bayit Yehudi chairman Naftali Bennett ahead of a possible merger between their two parties ahead of the elections.

With only a week to go until parties must file their election lists, and with new polls putting Netanyahu's Likud in second place to the center-left Zionist Camp, the official said Netanyahu is frightened and has already ordered an internal poll to find out how a Likud-Bayit Yehudi party would fare in the election.

"He's already sold us out once," the party official said regarding Netanyahu's decision to run together with the rightwing Yisrael Beytenu during the 2013 elections – a move considered to be ill advised as the joint list gained only 31 seats, an 11 seat drop in comparison to the amount the two received as independent parties in the previous elections.

However, according to a party minister, far from being a problem, such a result might be Netanyahu's goal: The prime minister is currently promoting a change in Israel's electoral system which give the head of the largest party – and not political bloc – the right to form the next government.

Related stories:

Thus, though a joint Likud-Bayit Yehudi run might not give either party any significant gain in the polls, and, if to judge from past experience, might even harm them, it would nonetheless secure Netanyahu's position as head of the largest party in the Knesset.

"Netanyahu is willing to sell the Likud to secure his continued control over government," the top party official said, even going as far as saying Netanyahu was "hysterical" he might lose.

Netanyahu is "testing the waters", the official said, claiming the prime minister has been frantically trying to contact Bayit Yehudi party members to see if they would be willing to negotiate such a merger.

"We won't let it happen," the official said, adding that Netanyahu "is addicted to being prime minister."

"Both the party and the activists won't allow a merger. The sane Likud members do not want to join a radical party," he said.
United they stand, united they fall
According to an average of the current polls, conducted by Israel's three major television channels, Netanyahu's Likud is currently in second with 24 Knesset seats, while the center-left Zionist Camp – comprised of the leftwing Labor party and centrist Hatnua – is leading the race with 25.

Bennett is holding a strong third, with almost 17 seats, while Netanyahu's former party members from Yisrael Beytenu are scratching the bottom of the polls with only 5 seats (down from 11 in the 2013 joint run with the Likud, and 15 in 2009).

If the current polling is accurate, a joint Likud-Bayit Yehudi party could theoretically gain a whooping 41 seats; though the scenario is unlikely as each party would lose some of its core constituency in a joint run, and would likely not gain more than 32-35 seats – less than the sum total of an independent run by each, but nonetheless securing Netanyahu's position at the helm of the next government.

Sources close to Netanyahu denied the report, saying "no merger is currently being discussed, this is a baseless spin."

Similar comments were expressed by the Bayit Yehudi; however, Bennett's actions seem to speak louder than his affiliates' words: The Bayit Yehudi is actually comprised of three smaller rightwing and religious parties which also need to reaffirm the historical decision to run together under the Bayit Yehudi banner, a move Bennett has been reluctant to do.

Moreover, Bennett has also been working frantically to attract secular voters by adding prominent rightwing but secular candidates to his predominantly religious party.

Needless to say the move has irked Tkuma, the most hawkish and religious of the three faction, led by Construction Minister Uri Ariel, which wishes to maintain the party's religious identity. Though the joint party's primaries passed and a joint list has been formulated, Bennett has yet to sign off on it, leaving a small window for a last minute merger.

"Never was and never will be," Ariel said in response to the report, indicating the move would lead to a political earthquake in the party. Either way, a final decision will have to be taken this week.