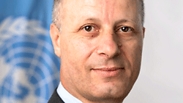 Palestinian Maher Nasser, a United Nations official with over 25 years experience in the organization, will join Israeli President Reuven Rivlin to mark International Holocaust Remembrance Day on January 27.
In 2005, the UN unanimously accepted then-foreign minister Silvan Shalom's suggestion to hold an international Holocaust memorial day in honor of the six million Jews, 1 million Gypsies, 250,000 disabled people, and 9,000 homosexual men murdered by the Nazis and their collaborators.
Related Stories:
Now, Shalom will participate at the event, being held at the former Nazi German death camp of Auschwitz-Birkenau.
President Rivlin will address the plenum. He is expected to address the issue of global anti-Semitism and the threat of the global jihad movement.
Nasser, who was born in Albireh, a small Palestinian town near Ramallah, has held a number of UN positions in Gaza and Jerusalem before taking up the management of the UN Department of Public Information.
The ceremony will also be attended by UN chief Ban Ki-moon, over 100 Holocaust survivors and veterans of the Red Army, which liberated the Auschwitz death camp on January 27, the day the ceremony is held.
Itamar Eichner and AP contributed to this report