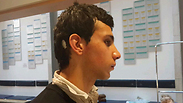 Tommy Hasson suffered head wounds after being attacked by ten Jewish men in Jerusalem.
An Israeli Druze student was brutally attacked by a group of ten Jewish men in Jerusalem on Thursday – reportedly after they heard that he was speaking Arabic. What Tommy Hasson's assailants did not know was that they were attacking a young man who had just completed his IDF service three months ago and recently moved to Jerusalem to study music.

The men, who were wearing skullcaps, hit the 21-year-old Druze student and broke a glass bottle on him.

Hasson was hospitalized suffering from bruises on his face and on the back of his head.

Hasson, a musician who grew up in the Druze town of Daliyat al-Karmel near Haifa, had recently moved to Jerusalem to begin his studies at a music academy. Hasson had completed his IDF just three months ago where he served in a Druze combat unit and later on at the President's Residence.

President Reuven Rivlin, who knew Hasson from his days in the IDF, called Hasson's father to show his support for the family.

Hasson's father, Ramzi, was shocked by the incident. "On a personal level I believed up until now that this is one nation – I never saw a difference between a Jew and a Druze. I believed and I will continue to believe in the future that this is the land of the Jewish nation – it has a right to live here. There was never doubt about this. I blame myself (and) I blame my Jewish friends for not doing enough to educate. To speak Arabic is not shameful – it does not make you a potential terrorist," said Ramzi.

Tommy's brother, Julian, said: "A month ago two Druze police officers were murdered during terror attacks and now a Druze gets hit by Jews. When we were asked if we were scared that Tommy lives in Jerusalem we said no, because he lives next to Jews."
The attack
"I finished work at 11 pm at the Jerusalem Gold Hotel, near the central bus station. As soon as I got out, at the bus station, there was a group of people – about ten individuals. They saw that I spoke Arabic with another person from East Jerusalem who was with me. They started to say a few words and threw a small trash can at my head. I stayed for a few minutes and then someone said to me, "What do you want?" insultingly.

"Someone spat at me and I hit him. And then everyone came at me. They all hit me. (With) glass, bottles. They were a big group (and) they yelled – they could not do anything and did not stop. I only managed to escape to the bus station's entrance after a few minutes and there a few people sat me down, gave me water and took care of me – they called an ambulance until the police arrived. They started asking me questions. In the meantime, blood ran down all over me – my head, my ears and on my shirt," said Hasson.

Hasson said that he did not know his assailants. "I have no idea who they are," he said. "They just saw me speaking Arabic and I have no idea why they chose to harass me specifically."

A nearby shop owner saw the attack take place in the distance but figured it was a fight among young teenagers. When the police arrived at the scene, Hasson's attackers were no longer there and security cameras in the area did nto cover the area in the station where Hasson was attacked.

Police gathered evidence from Hasson while he was treated at the Hadassah Medical Center in Jerusalem.