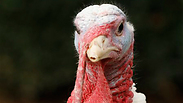 Symptoms of a highly pathogenic bird flu virus were discovered Saturday at a turkey farm near Kibbutz Magal in the Sharon Region.

The Agriculture Ministry began destroying 40,000 of the birds at the farm in response. Meanwhile, concerns arose that other farms in the area – in the towns of Elishema and Neve Yamin – had been affected by the disease.

Inspectors from the ministry arrived at the farm in Magel following the initial suspicion and took samples for examination in a laboratory.

The site was closed off after a positive result came back towards the evening.

The discovery of the virus came less than a week after it emerged at another Israeli turkey farm.

The first case in Israel in nearly three years was found in a village in the north on Monday, the World Organisation for Animal Health (OIE) said.

The deadly H5N1 virus caused the death of 15,000 birds at a turkey fattening farm in Avi'el, south of Haifa, the OIE reported on its website, citing data submitted by Israel's ministry of agriculture.

More than 140,000 birds were to be culled due to that outbreak, including 61,000 turkeys at a farm nearby where no clinical signs had been seen, the ministry said.

"The culling of all the flocks is ongoing. Backyard birds in the village will also be culled," it said.

High pathogenic H5N1 bird flu first infected humans in 1997 in Hong Kong. It has since spread from Asia to Europe and Africa and has become entrenched in poultry in some countries, causing millions of poultry infections and several hundred human deaths.

Reuters contributed to this report.