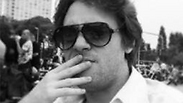 Argentine journalist Damian Pachter
Screenshot: Twitter
The mystery shrouding the death of Argentine prosecutor Alberto Nisman continued to engulf the Southern American country on Saturday, when journalist Damian Pachter, who first reported the story in the Buenos Aires Herald, fled the country out of "fear for his life."

According to reports, Pachter announced via the Argentinean Journalist Forum that he noticed "suspicious surveillance", and thus decided to escape. "I am leaving because my life is in danger," said Pachter, who specializes in international relations.

"The journalists' forum is notifying that Damian Pachter left the country due to threats over his personal safet," the group wrote on its Twitter account. "As Pachter explained to the forum, yesterday he noticed suspicious sources trailing him, and felt that he had to leave the country at this stage."

The statement said the forum had turned to the "relevant authorities" and has urged the public "pay attention to the safety of journalists in our country these days." They also called for cooperation in disseminating information regarding the Nisman affair and its latest developments.

Pachter was the first journalist to expose the mystery of Nisman's death. "I was notified at this moment that a serious event occurred at the home of Alberto Nisman," Pachter tweeted on Sunday.

Moments later he wrote: "They found Alberto Nisman in the bathroom of his home in Puerto Madero and he is not breathing. Medical crews are at the scene."

Nisman's body was discovered in his apartment one day before he was scheduled to testify in the parliament and present a report he compiled about the bombing of the Asociación Mutual Israelita Argentina in 1994, which claimed the lives of 85 people.

Meanwhile, a police source told the Associated Press on Friday night that the ten officers in Nisman's security detail were taken in for questioning. According to the source, the investigators are examining how long it took the two officers posted outside Nisman's door to inform their commanders that he did not answer his phone.

The ten policemen were suspended after Nisman was found dead, five days after he had accused the country's president of reaching a deal with Iran that shielded some officials from punishment for the attack on the Jewish center. The government purportedly hoped to benefit from increased trade, oil and financing from Iran.

The government says Nisman's allegations and his death were linked to a power struggle at Argentina's intelligence agency and agents who had recently been fired. It says they deliberately misled Nisman and may have had a hand in writing parts of his 350-page complaint.

"When he was alive they needed him to present the charges against the president. Then, undoubtedly, it was useful to have him dead," the president's chief of staff, Anibal Fernandez, said on Friday.