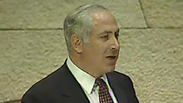 Netanyahu in speech against Peres in 1996
Israel's Channel 2 news
``I can't find an example of any previous Israeli government whose prime minister, on the eve of elections, made a cynical attempt to use relations between Israel and the United States as a party advertisement,'' Prime Minister Netanyahu said in remarks in 1996, while serving as opposition leader, blasting then-Prime Minister Shimon Peres' decision to travel to the US less than a month before the Knesset elections.

Benjamin Netanyahu accused Prime Minister Shimon Peres of exploiting his close relations with President Clinton and several Arab leaders to improve his chances for re-election, using harsh words in his condemnation.

``With all due respect, I want to say to Mr. Peres ... that foreigners do not decide the outcome of the Israeli elections, not the American government, the king of Morocco or Yasser Arafat,'' Netanyahu told parliament.

The criticism came after Peres wrapped up a three-day US visit during which he and Clinton signed a defense pact and agreed to cooperate in fighting terrorism.

On Friday, White House spokesman Josh Earnest reiterated the Obama administration's disapproval of Netanyahu's decision to visit the US and address a joint session of Congress on March 3, just two week before Israelis go to the polls.

"Prime Minister Netanyahu's visit comes about two weeks before the Israeli elections and this administration goes to great lengths to ensure that we don't give even the appearance of interfering or attempting to influence the outcome of a democratically-held election in another country," Earnest said, adding that "for that reason, the president will not be meeting with Prime Minister Netanyahu when he visits the US in March."

Member of Kulanu and Israel's former ambassador in Washington Michael Oren has called for Prime Minister Benjamin Netanyahu to cancel his planned address to Congress.

"The behavior over the last few days created the impression of a cynical political move, and it could hurt our attempts to act against Iran," said Oren.

"It's advisable to cancel the speech to Congress so as not to cause a rift with the American government. Much responsibility and reasoned political behavior are needed to guard interests in the White House."

Yesh Atid leader Yair Lapid on Saturday also criticized Prime Minister Benjamin Netanyahu's planned speech. "Netanyahu is destroying Israel's relations with the United States over an elections speech," Lapid said during a cultural event in Modi'in.

Similar sentiments were voiced by the Zionist Camp's Tzipi Livni, who said Netanyahu's speech will hurt Israeli security and the IDF's soldiers. "And for what? For politics," she said.

"IDF soldiers are being dragged to The Hague over war crimes they didn't commit, and the wall that stops that is the United States that helps Israel curb this attack. That's why our relations with the United States are essential to our security," Livni said at a cultural event in Bat Yam.

Associated Press and Roee Mendel contributed to this report.