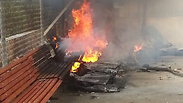 Scene of crash
Rishon Lezion Fire Department
Two people were killed Sunday morning in a light aircraft crash near the Superland amusement park in Rishon LeZion.
The plane caught fire and police reported two people were trapped inside, but Magen David Adom paramedics who arrived at the scene pronounced them dead. The circumstances of the crash are being investigated.
Plane crash scene near Rishon LeZion (צילום: כב״ה מחוז מרכז ועיריית ראשלצ)
The Transportation Ministry said that they are looking into the possibility that fog was a contributing factor in the crash.
Paramedic Ofir Frentki, who arrived on the scene, said: "We saw a crashed plane with two lifeless passengers who were trapped inside. We attempted to administer medical aid, but were forced to pronounce their deaths."


Yehuda Mizrahi, head of the United Hatzalah branch in Rishon LeZion, who was also called to the scene, said that the pilot may have missed the runway due to fog during his landing.


Ten months ago, a man was killed after crashing his powered paraglider near the Hefer Valley Regional Council. Paramedics found the pilot and evacuated him the hospital while performing CPR, but he was pronounced dead on arrival.